NEWS
Rosie O'Donnell Clarifies Lindsay Lohan Statements on Her Blog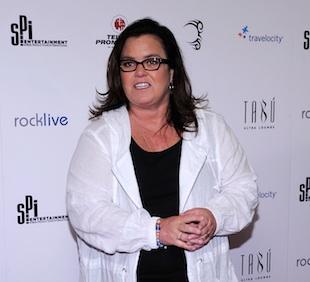 Oh, what a week it's been!
In case you missed it, here's a quick recap: Lindsay Lohan was cast as a young Elizabeth Taylor in Lifetime's biopic, Liz & Dick. During a segment on Today, Rosie O'Donnell indicated Lindsay wasn't "capable" of playing the part and not ready to be a movie star again, adding that Lindsay hadn't done a movie since she was 16.
Access Hollywood interviewed Lindsay at Star magazine's 4th Annual All Hollywood Event, and she said, "It's funny that someone you don't know at all can say something so intrusive and so knowing," she said. "You know, I did one of my first interviews with her when I was little. I was so excited."
Article continues below advertisement
OK! NEWS: LINDSAY LOHAN CALLS ROSIE O'DONNELL'S INSULTS "INTRUSIVE"
Lindsay's family has her back, too. Mom Dina Lohan responded to Rosie's rant by saying she needed to "get the facts straight" and explained Lindsay has worked with Meryl Streep and Jane Fonda in different movies, and an eclectic group of actors in Bobby.
Her estranged father, Michael Lohan, wrote to The Huffington Post, and asked if Rosie was in any position to judge anyone else.
OK! NEWS: ROSIE O'DONNELL — LINDSAY LOHAN "NOT CAPABLE" OF PLAYING ELIZABETH TAYLOR
Well, Rosie wrote on her blog to set the record straight. "i don't get it," she blogged. "it seemed pretty clear to me working right now seems like a bad idea it is not about her talent it is about her health Lindsay Lohan needs help."
Plus, she put Lindsay in the same category as other successful entertainers from Long Island — Alec Baldwin, Mariah Carey, Billy Joel, Judd Apatow, and Howard Stern, to name a few. She continued on her blog in all lowercase without punctuation: "long way from there to here the exact feeling i had watching whitney houstons funeral in newark we all should have spoken up for her too."
She added, "we believe in u u r not alone help is available u r loved. lindsay lohan is worth saving she is the only one who can do it before it is 2 late i hope she can finds her value - off camera and then - when she returns - on camera she will wow us all once more peace."