NEWS
Rupert Everett Takes Aim at Jennifer Aniston's 'Floppy' Career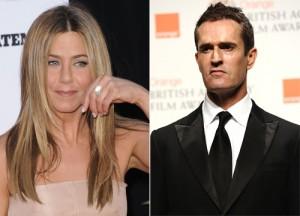 Rupert Everett loves to share his opinion on other actor's careers and now it's apparently time for him to share his two cents on Jennifer Aniston.
OK! GALLERY: JENNIFER ANISTON HAS A CASE OF THE "BRRS!" IN BRISK NYC
Rupert, according to E! News, was speaking to BBC Radio 4 about homosexuals working in Hollywood. During the conversation, Rupert argued that it isn't an audience that accepts an actor as a star, but rather the business that decides who makes the A-list.
Article continues below advertisement
"If you look and analyze the careers of many, many stars, you'll find that they're mostly sustained by the business," Rupert explained. "I'm not going to start naming names of people whose films have not succeeded at the box office, but you'll find there's lots of women and lots of men in the business that the powers that be decide are right for their business, and they'll stand with them for quite a long time."
Article continues below advertisement
It's not the first time Jen's career has been attacked and it probably won't be the last, but at least she was in good company when Rupert decided to name another name!
OK! GALLERY: COLIN FIRTH & CAST HOLD A PRESS CONFERENCE FOR THE KING'S SPEECH
Getting back to the original conversation, Rupert was asked whether The King's Speech star Colin Firth had taken roles away from gay men.
"Colin Firth I don't think was at all good in Mamma Mia!," he said. "You know, I would have thought it was almost a careericide."
But Colin also received a compliment from Rupert as well.
"On the other hand, I think his performance in A Single Man was the best performance of his life."