NEWS
Rush Limbaugh Sarcastically Says "Thank God for President Obama"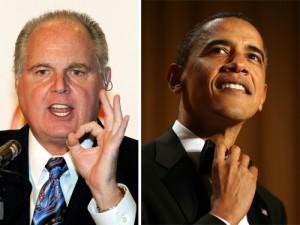 Rush Limbaugh may have changed the meaning of the saying, "If you don't have anything nice to say don't say anything at all." Rush had plenty of nice, albeit sarcastic things to say about President Barack Obama.
OK! NEWS: WATCH PRESIDENT OBAMA ROAST DONALD TRUMP AT WHITE HOUSE CORRESPONDENTS' DINNER
"Ladies and gentlemen, we need to open the program today by congratulating President Obama," Rush began his show today (via Entertainment Weekly). "In fact, it may be that President Obama single-handedly came up with the technique in order to pull this off.… Thank God for President Obama. If he had not been there, who knows what would have happened."
Article continues below advertisement
As his monologue continued, Limbaugh reverted to form, and the faint praise grew even fainter. "We've all seen President Obama last night on television announcing his single-handed involvement in securing the death of Osama bin Laden," he said. "We know that it was Obama who called off the bombing, insisted on the Special Forces. In fact, it was Obama who assembled the team. He said so. 'I,' 'me,' 'my' were three of the most used words in President Obama's media appearance last night."
OK! VIDEO: WATCH PRESIDENT OBAMA CONFIRM OSAMA BIN LADEN IS DEAD
And Rush had more problems with Obama's address to the nation.
"Not a single intelligence adviser, not a single national security adviser or military adviser came up with the idea. Not one of them — not one of them, according to Obama — had the ability to understand the need to get DNA. This was Obama's message last night. He said, quote, 'I assembled the team.' He refused to give the team the green light for the last three months, 'cause the team wanted to go in and create mayhem, and Obama alone — Barack Obama alone — knew the right way to do this."