NEWS
Ryan Gosling & Eva Mendes' Disneyland Date: Secretly Hooking Up for Weeks!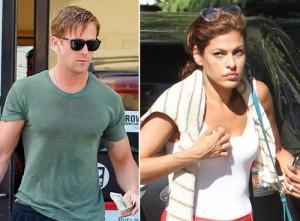 Ryan Gosling and Eva Mendes enjoyed a PDA-packed trip to Disneyland over the weekend, but according to OK! sources it was anything but a first date. "They've been hooking up for almost a month but they've been trying to keep it a secret," an insider tells OK! exclusively.
"They've been friends for a long time but when they started shooting their new movie The Place Beyond The Pines something just clicked," adds the insider.
Article continues below advertisement
The twosome started out being flirty right off the bat, and took things "to the next level" three weeks ago.
OK! GALLERY: RYAN GOSLING & EVEA MENDES STROLL ABOUT THE SET OF THE PLACE BEYOND THE PINES
"The timing was right, they're both single and in similar places in their lives right now," the source tells OK!. "Ryan and Eva have both been playing the field over the last year – it's been one fling after another so at this point they're taking it slow."
And as for that trip to Mickey Mouse's favorite place, it was Eva's idea!
"She goes all the time and doesn't always get noticed," dishes the friend. "They were hoping to fly under the radar, but obviously somebody spotted them."
VIDEO: WATCH RYAN GOSLING BREAK UP AN NYC STREET FIGHT
Photos showed the duo sharing smooches and walking with their arms around each other.
"They didn't realize they were getting photographed so they were very touchy-feely all day. The chemistry between them is pretty electric, even on set they're always sneaking off to one of their trailers to make out."
Hanging out at Disneyland might as well have been a movie set! They were cuddling on all the rides and holding hands all day.
OK! NEWS: RYAN GOSLING TELLS ESQUIRE BEING RECOGNIZED BY FANS IS LIKE BEING IN A DREAM
"It was the perfect romantic date; they even fed each other cotton candy!" says OK!'s insider.
Do you like Ryan and Eva together? Weigh in with your opinion in the comments!
CHECK OUT PICS FROM THE SET OF THE PLACE BEYOND THE PINES: