NEWS
Ryan, Oprah & Matt Top the Top Earners of TV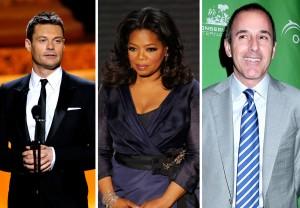 You may not be shocked by the names on TV's top earners list — Ryan Seacrest, Oprah Winfrey and Matt Lauer — but their respective salaries might surprise you!
OK! GALLERY: HOLLYWOOD'S TOP FIVE HIGHEST-PAID ACTRESSES OF 2009
Salaries for TV stars are not as big as they used to be, TV Guide Magazine reports.
The salary for a lead has been $150,000 to $200,000 per episode in recent years, but for new fall series most deals were between $75,000 and $125,000.
Article continues below advertisement
"No one broke the bank on anything this year," one former studio head said.
OK! NEWS: OPRAH WINFREY BRINGS ROSIE O'DONNELL BACK TO DAYTIME TV
Since ad revenues were hit by the recession, DVR has become popular as well as watching shows online, and networks have been cutting costs.
But if the TV star's show is on the rise, then it's a completely different story!
Below are the top three earners (per episode) in each category!
Drama
Hugh Laurie (House) — $400,000+
Christopher Meloni & Mariska Hargitay (Law & Order: SVU) — $395,000 (each)
David Caruso (CSI: Miami) — $375,000
Late Night/Talk Syndication
Oprah Winfrey — $315 million
Judge Judy Sheindlin — $45 million
David Letterman (The Late Show) — $28 million
Reality
Ryan Seacrest (American Idol) — $15 million
Joel McHale (The Soup) — $2 million
Piers Morgan (America's Got Talent) — $2 million
Comedy
Charlie Sheen (Two and a Half Men) — $1.25 million
Jon Cryer (Two and a Half Men) — $550,000
Marcia Cross (Desperate Housewives) — $400,000
News
Matt Lauer (Today) — $16 million +
Katie Couric (CBS) — $15 million
Brian Williams (NBC) — $12.5 million
Click HERE to see the complete list!