NEWS
Ryan Seacrest Preps for His Own Singing Show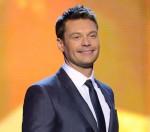 American Idol fans, look out! Host Ryan Seacrest just cranked things up a notch. The media empire that is Ryan has expanded to radio gigs, TV hosting jobs and let's not forget producer credits a la Keeping Up With the Kardashians. So, is it really a shock to hear that he's reportedly going to strike up the band on his very own music show? Find out more after the jump!
OK! VIDEO: WATCH CASEY ABRAMS' KISSING JOURNEY ON AMERICAN IDOL
Article continues below advertisement
According to The Hollywood Reporter (via MTV News), Ryan's in the early stages of chatting with NBC to rock out to his very own prime-time reality show that's a departure from the traditional competitions like Idol or The Voice. Although it's too soon to tell whether or not Ryan will be the host of this show or will be the brains behind it (or both), but insiders have indicated the new show will not compete directly with Idol.
OK! VIDEO: WATCH JAMES DURBIN SING "WILL YOU LOVE ME TOMORROW?" ON AMERICAN IDOL
Considering his contract with Idol expires at the end of next season, he's not able to appear on other networks until 2012. In late March, he told Reporter, "It doesn't make a lot of sense to host a show competing with Idol...I think it's possible to be the face of another show in the future, but at this point I certainly have not even gone down that road because Idol is in a great place, so I think we're just enjoying that and we want to focus on that."