NEWS
Sandra Bullock Blind-Sided by Golden Globe Nod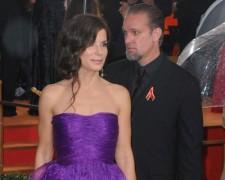 Sandra Bullock was stunned and humbled to win her first Golden Globe for Best Actress in a Motion Picture Drama last night against an idol like Helen Mirren and fabulous young stars Carey Mulligan, Emily Blunt and Gabourey Sidibe who all gave standout performances. Sandra admitted to Access Hollywood however, that winning awards isn't a part of her role- selection process.
"You know what, I get all the props I need from the right places," Sandra told Access Hollywood before last night's Golden Globes. "If I really wanted to get statues, I would have done other films a long time ago… I love doing the kinds of things that I do…
Article continues below advertisement
As long as people are entertained by them, I'm happy."
Sandra's won the coveted statute for playing Leigh Anne Tuohy in The Blind Side. The family portrayed in the real life story took in Michael Oher, a homeless young man who eventually became an NFL star.
The Blind Side was one of the heavy hitter blockbusters of 2009 with continued success in the new year, bringing in over $226 million nationwide, the highest grossing film led by an A-list actress.
Despite the extraordinary numbers, Sandra remained modest about the success of the film.
"It's all shocking," she said. "There have been so many other actresses like Julia Roberts and Meryl Streep that I think made the equivalent five years ago what $200 million is now…. They blazed a trail — the path — before I got there and now I'm just following in very good paths and footsteps."