NEWS
Sandra Bullock & Keanu Reeve's Intimate Rendezvous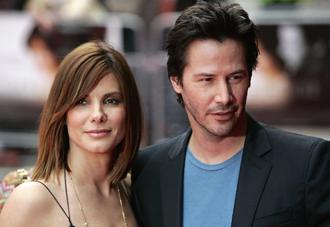 Dressed in all black, except for sexy zebra-print heels, Sandra Bullock slipped into Craig's restaurant in West Hollywood just after 7 p.m. to meet with her old friend Keanu Reeves — a man she always relies on in times of loneliness. " They were taken into a private room at the back of the restaurant," an observer at the Oct. 26 dinner date tells OK!, adding that though the stars were joined by friends, the two gushed over each other for the entire three-hour meal.
Article continues below advertisement
OK! NEWS: RYAN REYNOLDS & BLAKE LIVELY HEAT UP ALL OVER THE EAST COAST
"They were chatting the whole night and looked really close, says the observer. "Keanu was making her laugh."
Over the years since they first displayed their sexual chemistry in 1994's hit, Speed, there have been rumors that Sandra, 47, and Keanu, also 47, were more than friends, but it's never evolved into a public relationship. "They have been super close ever since they met," says a second insider. "It's weird that they have never been an official couple. They have always been attracted to each other."
OK! NEWS: BLAKE LIVELY STEALS SANDRA BULLOCK'S MAN!
While there's no doubt their friendship will continue, some pals hope the day has come for them to make their cinematic coupledom real. "They're both single; they're both hot," says the insider. "They are already close friends; what are they waiting for?"
FOR MORE ON SANDRA & KEANU'S RELATIONSHIP, PICK UP THIS WEEK'S ISSUE OF OK! — ON SALE EVERYWHERE NOW!