NEWS
Blake Lively Steals Sandra Bullock's Man!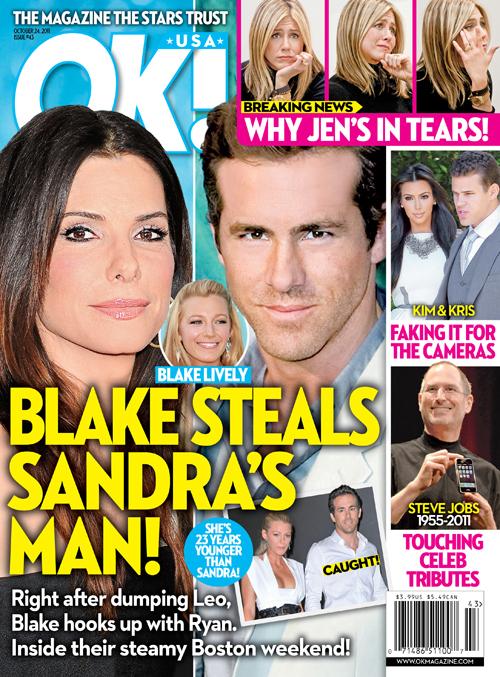 Ryan Reynolds and Blake Lively: Sandra Bullock heartbroken again? After dumping America's Sweetheart, Ryan Reynolds was recently seen smooching with Green Lantern co-star Blake Lively all over Boston! Find out how Sandra and her toddler son Louis are coping. Plus, where Ryan and 24-year-old Blake, who recently split with Leonardo DiCaprio, are dining and hanging out in the New England city, where Ryan is currently making a film.
Kim Kardashian and Kris Humphries: They put on a good show for the cameras, but behind the scenes, newlyweds Kim Kardashian and Kris Humphries are bickering like crazy. The top triggers: her spending, his partying and his reluctance to share his life with the paparazzi.
Jennifer Aniston: Jennifer Aniston is blissfully in love these days, but that doesn't prevent her from having a tearful display once in a while. At a recent event at a breast-care center, the actress was moved to tears by a breast cancer survivor's tale. Plus, more on her new project, Five.
Steve Jobs: The death of the extremely innovative Apple co-founder sent fans to their iMacs, iPhones and iPads to express their grief on the Internet. The rate of Tweets about Jobs' passing went up to more than 6,000 per second that day, and celebs weren't slow to join in. Here, a few tribute Tweets from stars like Jimmy Fallon and Jane Lynch.
Fashion and Beauty: The season's comfiest sweaters, as seen on stars like Taylor Swift and Rachel Bilson; Celeb stylists show how to style your bangs like Lea Michele's.
Article continues below advertisement
Plus: OK! lists the top 10 tales of the most outrageous celebrity demands, from stars like Mariah Carey and Christina Aguilera; Teen Mom update — a ring on Maci Bookout's finger has fans wondering if she and Kyle King secretly wed, and Amber Portwood's still struggling, even after rehab; The A-lister buddies you'd never expect, like David Beckham and Snoop Dogg; Lisa Oz, the wife of Dr. Mehmet Oz, tells OK! what life is really like with TV's famous physician; Experts debate the effectiveness of "renewable contract" marriages; OK! dishes on the hottest red-carpet trend this week in Hollywood; Sir Paul McCartney gets married; And Rihanna gets close to a video co-star.