NEWS
Sarah & Bristol Palin Team Up to Tell Off Fox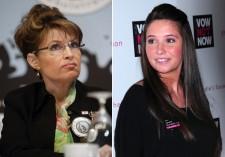 During Sunday night's episode of Family Guy, Sarah Palin's son Trig's Down syndrome was the brunt of one of the cartoon's jokes. The big problem is that both Family Guy and Sarah are a part of Fox's TV family.
OK! NEWS: IS FAMILY GUY GOING TO FAR PUTTING SARAH PALIN'S SON TRIG IN AN EPISODE?
In Sunday's episode, Peter Griffin's son Chris takes Emily, a girl with Down syndrome, on a dinner date. This part of the episode is short, but Emily makes a Sarah reference when asked what her parents do, answering, "My dad's an accountant, and my mom is the former governor of Alaska."
Article continues below advertisement
Sarah responded to the joke by making a post on her Facebook page titled, "Fox Hollywood - What a Disappointment."
OK! NEWS: FOR THEM TO CALL ME DEADBEAT DAD IS ABSURD
But it was the now-Fox News star's daughter Bristol who did most of the writing.
More than 8,500 fans have "liked" the post.