NEWS
Sarah Jessica Parker on 'SATC2': "What if the Audience Isn't Happy?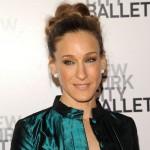 While Sex and the City fans might be getting more excited as we get closer to the May 27 release of SATC2, Sarah Jessica Parker is getting more nervous!
OK! GALLERY: NEW SEX AND THE CITY 2 STILLS!
"I'm excited," Sarah told E! News of the release. "But this is also the period when I tend to be very nervous and I worry and I fret and over-think. I'm in a state of turmoil."
"I fret about everything. I worry that it's not good enough," she explained. "I worry that no one will show up…What if the audience isn't happy?"
Article continues below advertisement
OK! NEWS: SATC2 CAST SHARES SECRETS — HOT HOOKUPS REVEALED?
But she doesn't worry that the audience won't be happy that she still doesn't show any skin in the movie!
"You don't want to see me topless," Sarah joked. "You really don't."
Even though the other ladies have never had a problem with it, she still won't be joining them.
"Maybe they're more equipped to do so," Sarah laughed. "And it's all been voluntary. There was never any pressure. Never once. It's too progressive of a community here to have anyone pressured into doing that."
Article continues below advertisement
While Sarah worries how SATC2 will fair at the box office, she's still trying to decide if her own family will be seeing the film.
"I'm not going to be able to keep him away much longer," Sarah said of her 7-year-old son James Wilkie Broderick. "If I can manage to take him out for popcorn for two certain moments, I think he's ready for it. He has too many questions, and he's too clever for us to keep it from him. I wouldn't say this movie is for 7-year-olds, but we'll find a way of figuring it out."
"Oh, dear god," the star joked. "I don't feel entitled to have that conversation yet. Let's see if anybody shows up on May 27."