NEWS
Sarah Jessica Parker on 'Sex and the City 2' Rumors: "Sometimes Feelings Get Hurt"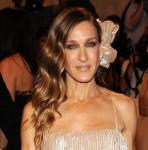 For Sex and the City fans who found the first movie a bit of a downer, Sarah Jessica Parker has some good news — the sequel is a blast.
"The new movie is the antidote to the first one," Carrie Bradshaw herself tells the June 2010 issue of Marie Claire magazine via Access Hollywood. "It's a romp. A caper. It's big and cinematic and grand — and fun!"
Article continues below advertisement
The fabulous foursome leaped from their cult HBO series to the big screen in 2008, making $415 million worldwide in the process. In fact, the movie was such a hit that the ladies are gearing up for round three.
"If Sarah Jessica and writer/director Michael Patrick King want to make another, I'm there," co-star Cynthia Nixon tells the mag. "I'd go along with them blindfolded."
While the women talk solidarity, dismissing tales of on-set squabbles, the quartet has been dogged with rumors of diva behavior and competition.
"When you're on set, you're working 90 hour weeks, you're never home, you're exhausted," says SJP. "There are times when all of us have been sensitive, and sometimes feelings get hurt."
OK! NEWS: KIM CATTRALL: "I'M TOTALLY INSECURE"
Kim Cattrall adds, however, that the magic between the four women is very much alive.
Article continues below advertisement
"The chemistry among the four of us is very strong," Kim says. "The press has to put women in these boxes, rather than show them as the movie portrays them: working together and being powerful."
OK! NEWS: SARAH JESSICA PARKER TALKS SATC 3, TWINS
"It hasn't always been smooth sailing," Cynthia says. "But the idea that we're somehow adversarial is ridiculous."
Meanwhile, Kristin Davis reminisces about the early days of the series when the gang bonded over 19-hour working days and trips to the beach.
OK! NEWS: SEX AND THE CITY POSTER HAS ARRIVED
"When we first started, we would all drive out to the Hamptons together at 4am on a Friday night after shooting ended and see the sunrise as we arrived. I love those memories," she says. "We worked so many hours, just work work, work, work, work."
But, the ladies have taught age-obsessed Hollywood a lesson: "We didn't start on this show when we were 20," says Kristin. "Everyone knows how old we are, and we're still getting to make movies."