NEWS
Sarah Michelle Gellar Talks 'Ringer' & Stunt Doubles at Comic-Con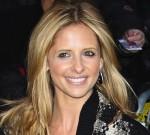 It's hard to believe that eight years have passed (count 'em, eight!) since Sarah Michelle Gellar kicked butt on Buffy the Vampire Slayer but she's making a triumphant return to TV this fall! Yesterday at Comic-Con, Sarah dished about her new CW show, Ringer, and how weird it is to not perform her own stunts.
OK! NEWS: COMIC-CON DEBUTS SEXY FOOTAGE FROM BREAKING DOWN HONEYMOON
As noted by Entertainment Weekly, Sarah explained. "When you have a show like Buffy that was so perfect, you're not looking for a show to top it. You're not looking for show that's completely different." Then she also gave props to her fans. "We wouldn't exist without fans. We wanted to come back and do a show that fans would love that would be different but still exciting."
Article continues below advertisement
MORE ON:
Sarah Michelle Gellar
Although she mentions risks, there's one thing she's doing less of and that's kick butting her way on screen. "On Buffy, I could just go through a wall," she explained. "When we were doing this sequence (for Ringer), we had stunt doubles, and I was like, for what? Why do I have a stunt double? I was like, this is weird."
Well, looks like she'll have to get used to it when Ringer premieres on September 13.