NEWS
Sarah Palin Begins Fox Commentator Role Tonight on 'The O'Reilly Factor'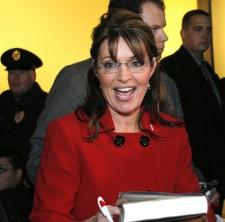 Sarah Palin is exercising her broadcast journalism chops as a guest commentator on Bill O'Reilly's controversial political talk show The O'Reilly Factor. The former Alaskan governor will be a guest commentator on tonight's show, kicking off her new deal with Fox.
Fox announced today Sarah will "sit down with Bill to take on America's top issues."
Yesterday, The New York Times' Media Decoder Blog reported that the former Republican vice presidential candidate will host a series of episodes on Fox, with guest commentating spots on different shows; however, she will not have her own show.
Article continues below advertisement
Sarah's fee for her new endeavor has not been released.
She is no stranger to the broadcast world, having majored in journalism with an emphasis on broadcasting at the University of Idaho. She also worked part time as a weekend sportscaster in 1988 for an Anchorage TV station.
To hear what the hockey mom has to say about the nation's top issues, tune in to Bill O'Reilly tonight at 8 p.m. on Fox. There is sure to be some controversy!