NEWS
Sarah Palin: I Was Tina Fey Before She Was Me!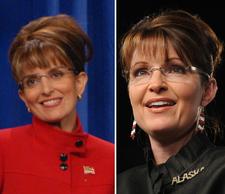 Last weekend, Tina Fey made a brief, hilarious return to the Saturday Night Live stage to of Republican Vice-Presidential candidate Sarah Palin in a skit that quickly became an internet phenomenon. And surprisingly, in a new interview, the Alaska governor admits to being both flattered and intimidated.
"I watched with the volume all the way down," Palin admits to Fox News Channel's Hannity & Colmes in an interview set to air tonight. "I thought it was hilarious. I thought she was spot-on."
Article continues below advertisement