NEWS
Sarah Palin's New Doc Gets Some 'Tender Loving Care'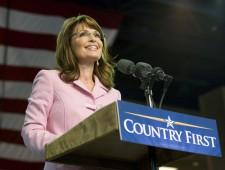 Sarah Palin will be joining the likes of Kate Gosselin as one of TLC's new reality stars. Yes, the former Governor of Alaska struck oil — or gold — finally partnering with a network to air her eight-part documentary series, Sarah Palin's Alaska.
Discovery Communications' TLC cable channel has acquired the documentary series about the former Alaska governor and her state, according to NY Times Blog, Media Decoder.
Article continues below advertisement
The documentary "reveal Alaska's powerful beauty as it has never been filmed, and as told by one of the state's proudest daughters," Peter Liguori, Discovery's chief operating officer, said in a statement.
OK! NEWS: SARAH & BRISTOL PALIN TEAM UP TO TELL OFF FOX
A start date for filming has not been scheduled yet, leaving no specified premiere date. The title may also change.
The eight-part travelogue has been shopped around Hollywood by Sarah and Mark Burnett, the producer of Survivor and other reality shows, who will be the executive producer.
OK! NEWS: SARAH PALIN NEWS COMMENTATOR — COMING TO A TV NEAR YOU
The broadcast networks all passed on the series, the Media Decoder reports, a person at one of the networks said the nature-oriented series would have better home with a company like Discovery (having a strong nature background).
Discovery decided to direct Sarah Palin's Alaska to TLC, best known for reality shows about different families like their successful show Jon & Kate Plus 8, which ratings skyrocketed as Jon and Kate Gosselin's marriage collapsed on the show.