NEWS
Sarah & Todd Palin's Love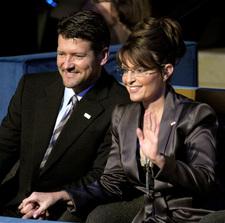 In 1988, Sarah and Todd Palin said "I do" in a local courthouse in Palmer, Alaska. Twenty years later, the Republican Vice Presidential nominee told America at the Republican National Convention just how much she still loves her husband.
"We met in high school, and two decades and five children later, he's still my guy!" Sarah said during her vice presidential acceptance speech.
And although the Palin's family life is sparking controversy — teenage daughter Bristol is pregnant and engaged, and rumors that Sarah had an affair with her husband's former business partner, though strongly denied, continue to swirl — it's clear the VP candidate and her "guy" have stayed together through good times and bad.
Article continues below advertisement
"Sarah and Todd met in high school," her good friend and biographer, Kaylene Johnson, author of Sarah, tells OK!. "Sarah was attracted to Todd because he appeared so grown up. He was already a commercial fisherman."
The people who know them best don't buy the tale of infidelity. "They're radiant when they talk about each other," says Kaylene. "Their love hasn't dimmed."
For more on Sarah and Todd's love story and family life, pick up the new issue of OK! on sale Thursday and check out our exclusive gallery from the book Sarah by Kaylene Johnson (Epicenter Press).