NEWS
'SATC 2' Sneak Peek: What Do the Fab Four Have in Store?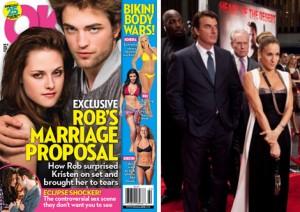 As the stunning ladies of Sex and The City get set to return to the big screen on May 27 with another dose of sex, shoes, and steamy men, OK! has a special sneak peek at what else is in store for the saucy gals.
While the first installment of SATC saw Carrie Bradshaw and Mr. Big's wedding, this time around, its Stanford, played by Willie Garson, who will be tying the knot.
But, just as Carrie's wedding got disrupted by a missing groom, poor Stanford and Anthony almost got upstaged by a flock of swans.
Article continues below advertisement
"The swans kept flapping their wings and running around," an on-set source tells OK!. "They had three people in charge of the two swans! Rumor was the swans got $15,000 a day (which was more than the model extras got)."
If swans aren't elaborate enough for a wedding, a performance by 64-year-old Liza Minnelli singing Beyoncé's "Single Ladies" during the ceremony should keep SATC fans satiated.
And, make sure to keep your eyes peeled for an 80s flashback channeling the legendary Madonna.
The cast, including Sarah Jessica Parker, was, "cracking up over being 'Madonna wannabes' when they were younger," an insider tells OK!.
Creating the looks was a blast, too. "We used tons of hair spray," star stylist Frank Barbosa tells OK!. "It was so much fun!"
Article continues below advertisement
A guest appearance by another musician, Miley Cyrus, stirred up a few smiles as the 19-year-old shot a scene with actress Kim Cattrall in matching Matthew Williamson dresses.
"She went into the wardrobe trailer and flipped out," the insider says. "She was touching everything and saying that she couldn't believe all the clothes they get to wear."
But, Miley wasn't the only one on set in awe of the amazing fashion. Project Runway's Tim Gunn has a guest spot in SATC 2 and according to an insider, "he was saying how honored he was to be part of such an iconic fashion film and he spent the whole time talking fashion with the ladies."
OK! NEW: SATC 2 CAST SHARES SECRETS: HOT HOOKUPS REVEALED?
Trying not to give too much away about the actual film, a little sneak peek of what happened when the cameras stopped rolling couldn't hurt.
Apparently, Chris Noth, who plays Carrie's husband, forget that he was married on screen and spent most of his time flirting with extras!
"Chris Noth was definitely flirty with all the model extras," an on-set source tells OK!. "He would even eat meals with the crew and extras so he could spend more time with them."