NEWS
'SATC' Stars Share Their Favorite Fashions of All Time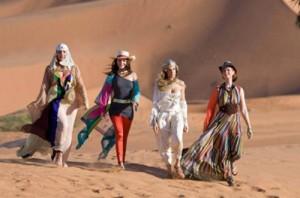 Sex and The City has been an iconic show for women in so many ways — the close friendship between the fab four, the open conversations, the men, the sex and most importantly the fashion! Fans of the show love to classify themselves as a Carrie, Samantha, Miranda or Charlotte based on their styles (something that was evident when the first movie opened in 2008 and viewers dressed the part)! MTV caught up with Sarah Jessica Parker, Kim Cattrall, Kristin Davis and Cynthia Nixon who each shared their favorite SATC fashion from either the show or films.
Article continues below advertisement
Cynthia found the question overwhelming.
OK! GALLERY: NEW SEX AND THE CITY STILLS!
"Favorite outfit of all time? I have no idea," she told MTV News.
Kim's answer was more specific.
"I love the hat in the first movie, that just glorious, that huge hat that I had," she said. "Some of my favorite scenes were going down the pole in the fireman episode. That whole episode was just so much fun to do."
Kristin found the question overwhelming as well, but was able to pinpoint one of her favorite moments from show where she wore a very specific dress.
"Do you know how many thousands and thousands of outfits we have worn? I'm going to go with the Vera Wang, the first poofy wedding dress, because I would never choose such a thing in my life," Kristin told MTV, referring to Charlotte's gown during her wedding to Trey.
Article continues below advertisement
"It was so quintessentially Charlotte and so deliciously foofy and Vera Wang that I'm going to go with that. And there's a favorite picture from that: when we walk out of the church and they threw the rose petals."
As for SJP, it was a moment from the show that involved a lot of tulle.
"I think the tutu in Paris, in that final montage of her and Big finally getting back together," Sarah Jessica said referring to the famous scene in the series finale, when Big travels to Paris to profess his love for Carrie!
The NYC premiere of SATC 2 lands in NYC tonight and the film opens in theaters everywhere Friday! Are you excited?
What's your favorite SATC look or moment?
OK! EXCLUSIVE: SATC2 SNEAK PEEK — WHAT DO THE FAB FOUR HAVE IN STORE?