NEWS
'SATC2' Video Round-Up: Get Ready to Be Carried Away Again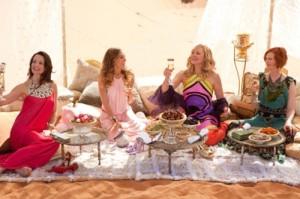 With the NYC premiere of the highly-anticipated Sex and The City 2 airing tonight, take a look at this round-up of interviews with the stars from Today. Get all the gossip and sneak peeks to prepare you for the main event!
Jason Lewis remains tight-lipped on Today, but we do know that he filmed in Morocco... will there be a rekindling between him and Kim Cattrall's character Samantha?
Article continues below advertisement
Kristin Davis talks with Meredith Vieira about the "magical" experience she had filming SATC2.
Sarah Jessica Parker chats with Meredith on the importance of giving back to the audience with a great second film.
Kathie Lee Gifford and Hoda Kotb speak with the new hunks of SATC 2 who play Samantha's suitors, actors Max Ryan and Noah Mills.