NEWS
Scarlett Johansson: It's Good to Be Wed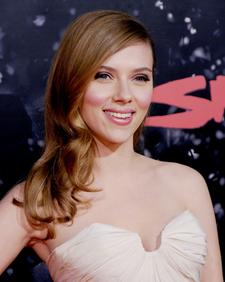 Even though Scarlett Johansson isn't stumbling drunkenly out of nightclubs or flashing her undergarments, she still managed to get plenty of attention this fall when she and Ryan Reynolds tied the knot. But even though Hollywood noticed, the Spirit actress still flew under the radar.
"It was my mission to have a moment of privacy, to do something for myself," she tells the L.A. Times of the ceremony, pictures of which have never hit the Internet. "I was happy with the results of that."
Article continues below advertisement
CLICK HERE for OK!'s Ultimate Scarlett Johansson gallery!
Something she wasn't quite so happy with, however, was the recent fabricated interview that ran in the UK edition of Cosmopolitan, running quotes supposedly from
Scarlett about her wedding.
"I read the article, and thought, 'What the … ?' " she says of the incident, which Cosmo has since apologized for. "We dug a little deeper, and it got even weirder. The story was written by someone with a pseudonym; they don't know the real writer. It was bought by this agency that sold the same story to half a dozen tabloids."
MORE ON:
Scarlett Johansson
As for her tendency not to attract the camera flashes outside clubs for the kind of antics some of her peers have a habit of performing, Scarlett is refreshingly down to earth about the whole "fame" thing.
"I don't know when that became a standard for young people," she says of bad behavior, adding that while she does goe out with her friends, "we're all responsible young adults, within reason I suppose, and that should be the norm. I think that is the norm, really, but maybe it's not just interesting."