NEWS
Scarlett Johansson & Ryan Reynolds Split Because They "Were Never Together"?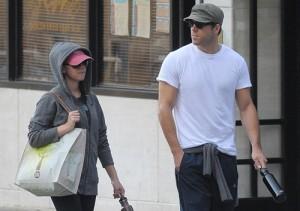 Everyone wants to know exactly why Scarlett Johansson and Ryan Reynolds' marriage didn't work out, but the best we're going to get for now are only some reports. However, this one seems to make a lost of sense. A source says Scarlett and Ryan split because they "were never together."
OK! NEWS: RYAN REYNOLDS & SCARLETT JOHANSSON CONFIRM DECISION TO "END THEIR MARRIAGE"
According to an E! News source, the extremely good-looking couple "were never together" meaning they didn't physically see each other enough throughout their marriage.
Article continues below advertisement
"They were together probably three months their entire marriage," the source explains. "They just grew apart. It was never like 'we want to split.' But they just both gave in to the reality that they were never together."
By how little Ryan and Scarlett were photographed in each other's company, that seems like it could be true.
OK! NEWS: KIDD KRADDICK ON SCARLETT JOHANSSON DATING RUMORS — "THIS HAS TO STOP!"
Both have been busy working on projects since they married in 2008, which put a strain on their relationship.
"Work never even allowed them to get a chance to spend enough time together," the insider explained.
But they tried.
"Last year they spent a month in Europe and didn't work the whole month."
And the trying didn't work.
"It hasn't been easy for either one of them," the source explained. "They still care deeply about each other. It didn't end on bad terms."
OK! NEWS: SCARLETT JOHANSSON & RYAN REYNOLDS — WHAT WENT WRONG?
While their marriage may be done, Scarlett is reportedly still hopeful she'll find someone else.
"She wants a family once she finds the right guy with enough confidence to deal with her celebrity."
Ouch!
Wonder if they're still be leaving the marriage with "love and kindness?"
What do you think of this split theory?