NEWS
On the Scene at the 'American Idol' Finale!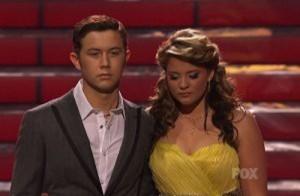 After a record-breaking more than 122 million votes, Scotty McCreery was crowned the newest American Idol, beating out Lauren Alaina. And it was quite a scene to be there for it all. Tons of former Idols were spotted throughout the audience, from David Cook and Lee DeWyze, to Adam Lambert and Kris Allen sitting righting in front of each other — there were Idols everywhere.
And the musical numbers were amazing. Haley Reinhart belted it out a hit with Tony Bennett. James Durbin rocked it with Judas Priest. The girls showed off their moves with Beyoncé. But the best musical moments of the night had to be Scotty singing with Tim McGraw and Lauren sharing a stage with Carrie Underwood. They both sounded amazing together. And I actually had goosebumps from the performance.
Article continues below advertisement
OK! NEWS: AMERICAN IDOL CONTESTANTS CHAT BEFORE SCOTTY MCCREERY'S BIG WIN!
There was lots of spectacles as well, the first one, of course, being Lady Gaga, who cannot just have a simple performance. And there was Bono and The Edge performing a song from their troubled musical Spider-Man: Turn off the Dark! Jennifer Lopez shimmied away on stage as her hubby, Marc Anthony, belted it out, and Steven Tyler really rocked out the house with "Dream On."
But we were actually here for some big results. The night finally came to an end and to no surprise, Scotty was the big winner. The new Idol was so busy hugging his family and fellow Idol contestants that he could barely get the song out. But the confetti feel, the fireworks went off. And we had ourselves a new star: Scotty McCreery. Lauren even showered him with kisses as the credits rolled; no hard feelings there. I have a feeling that these two will be best friends for a long time.
Now it was time to party! And the Idols did just that at massive tents set up over L.A. Live, where they mingled and just had a good time where they could finally relax!
After barely a break, the American Idol top 11 will go out on tour this summer! Check out ticketmaster.com for tour dates!