NEWS
Holy 'Schitt's Creek'! Pop Comedy Scores Big At Emmy Awards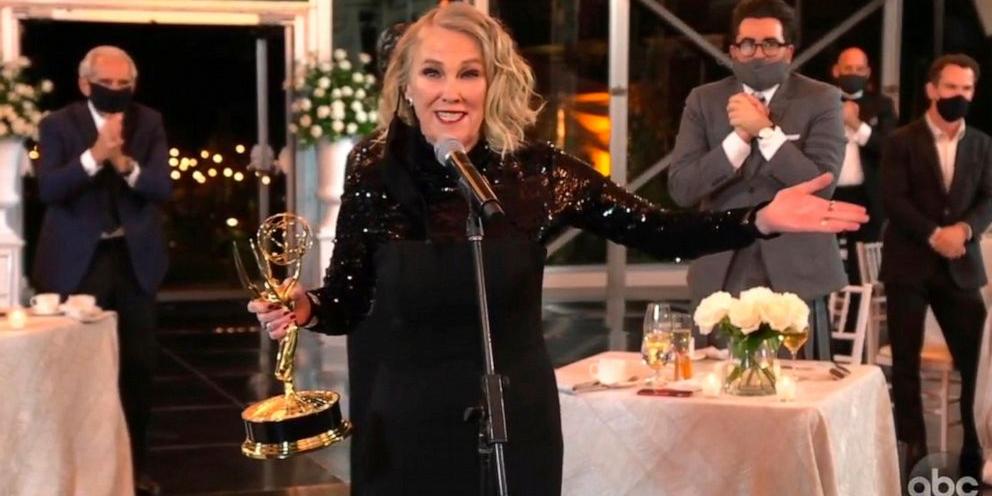 Schitt's Creek was on a roll at the 2020 Emmy Awards — grabbing all seven comedy categories. The hilarious comedy show won the big prizes for categories, including Best Lead Actor, Best Lead Actress and Best Comedy.
The clean sweep is historic since it broke several records to become the first comedy to win all awards in the acting category. It's also said to have become the most awarded comedy in a single year.
Article continues below advertisement
IT'S THE PANDEMMYS! FULL LIST OF 2020 EMMY AWARD WINNERS
"It is absolutely incredible," said Daniel Levy, star and creator of the sitcom. "My dad and costar Eugene Levy said it best earlier tonight, that it feels like a dream that you don't want to wake up from to be perfectly honest."
"But what an absolutely unbelievable way to end our series," the 37-year-old added. "I don't think you could ever ask for a better conclusion to a story than tonight. We are absolutely thrilled."
After his third win, Levy said that the internet is going to "turn on me." The comedy's cast included winners Catherine O'Hara, Annie Murphy, Eugene Levy and director Andrew Cividino. They opted to be together on the night of the big event, although a majority of the year's nominees were live from their homes.
EMMY FASHION REWIND: THE BEST-DRESSED STARS OF THE LAST DECADE
The sitcom — which aired 80 episodes over six seasons — picked up nine awards, thus breaking the previous record of eight wins set by The Marvelous Mrs. Maisel in 2019. The show revolves around the life of the filthy-rich video store magnate Johnny Rose and his family. After the Rose family realizes they are broke, they move to Schitt's Creek, where they have to rebuild their empire again and ditch their lavish lifestyle.
Levy also added his thoughts on whether there will be a Schitt's Creek movie at some point in the future.
"This is the best way we could have ever ended this show, so, if there is an idea that ever pops into my head that's worthy of these wonderful people, it has to be really freaking good at this point because this is a really nice way of saying goodbye," he said, adding that he has his fingers crossed for "a really good idea" soon.