NEWS
Scientology Allegedly Secretly Auditioned Woman to Become Tom Cruise's Wife Before Katie Holmes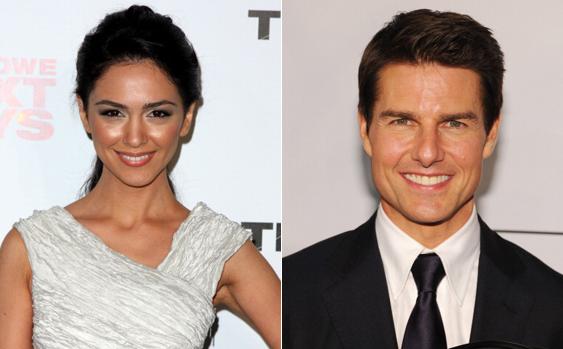 Before Katie Holmes, there was Nazanin Boniadi — an Iranian-born, London-raised actress and Scientologist, who was chosen to date Tom Cruise from November 2004 until January 2005.
According to the October issue of Vanity Fair, Shelly Miscavige, wife of Scientology chief David Miscavige, conducted a top-secret project that involved finding a girlfriend for Tom.
And that's where Nazanin came in.
Article continues below advertisement
"Initially she was told only that she had been selected for a very important mission. In a month-long preparation in October 2004, she was audited every day, a process in which she told a high-ranking Scientology official her innermost secrets and every detail of her sex life. Boniadi allegedly was told to lose her braces, her red highlights, and her boyfriend. According to a knowledgeable source, she was shown confidential auditing files of her boyfriend to expedite a breakup. (Scientology denies any misuse of confidential material.) The source says Boniadi signed a confidentiality agreement and was told that if she "messed up" in any way she would be declared a Suppressive Person (a pariah and enemy of Scientology)."
The two began to date, but things quickly turned sour.
"Though the first month of the relationship was bliss, by the second month Nazanin was more and more often found wanting. Anything she said or did that Tom found fault with he immediately reported to a member of the Scientology staff, and she would be audited for it."
OK! GALLERY: SURI CRUISE HAS A BLAST WITH MOM KATIE HOLMES AT A BROOKLYN PARK
However, the actress fell in love with the Tom, but wasn't pleased with his behavior.
Article continues below advertisement
"The intensity of his affection, especially his predilection for public displays, overwhelmed her. "I get more love from an extra than I get from you," the actor reportedly complained. Every day she spent two to three hours purging herself of "negative thoughts about Tom." She felt completely shut off; her only source of money was a credit card issued in the name of his production company."
However, the church is strongly denying the claims and a rep for Scientology told Us Weekly, "The entire story is hogwash. There was no project, secret or otherwise, ever conducted by the Church to find a bride (audition or otherwise) for any member of the church. The allegation and entire premise of the Vanity Fair article is totally false . . . We have been denying this ridiculous tale now since it first appeared in print four years ago."
Oscar winning director Paul Haggis who is a former Scientologist has known Nazanin for three years and wrote and email to ShowBiz411.com defending his friend.
"Naz was embarrassed by her unwitting involvement in this incident and never wanted it to come out, so I kept silent. I was deeply disturbed by how the highest ranking members of a church could so easily justify using one of their members; how they so callously punished her and then so effectively silenced her when it was done."
Article continues below advertisement
Marc Headley, a former Scientologist, told Vanity Fair that he saw those audition tapes when he was the head of the church's in-house production studio.
"We assumed that this was going to be for "Mission Impossible 3," and then I later found out that it was just an audition process to try and find a girlfriend for Tom Cruise," he told ABC News in July.
Related Stories:
Tom Cruise Calls Tony Scott a "Dear Friend" and a "Creative Visionary"