NEWS
Sean Penn Slams Wyclef Jean For Haiti President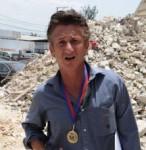 Firebrand actor Sean Penn is sceptical of rapper Wyclef Jean's bid for the presidency of Haiti, revealing he's "suspicious of it".
Former Fugees singer Wyclef made his first televised announcement about running for Haitian president on CNN last night, reports PopEater.
OK! NEWS: WYCLEF JEAN TALKS HAITI PRESIDENCY
But Sean Penn, who has been active in the troubled nation since the earthquake, questioned his motives and value as a leader.
Article continues below advertisement
"This is somebody who's going to receive an enormous amount of support from the United States, and I have to say I'm very suspicious of it, simply because he, as an ambassador at large, has been virtually silent. For those of us in Haiti, he has been a non-presence," Sean said.
OK! NEWS: NICOLE KIDMAN TRAVELS TO HAITI
Wyclef, 37, who was born in Haiti but left soon after and was raised in Brooklyn and New Jersey, established the Yelé Haiti foundation in 2004, providing aid and opportunities to the country's citizens.
But Sean also mentioned the allegations that Wyclef mishandled a $400,000 donation for his Yele Haiti foundation.
OK! NEWS: SEAN PENN & ROBIN WRIGHT OFFICIALLY DIVORCED
"He claims he didn't do it. That has to be looked into it," the Mystic River star said. "I've been there. I know what $400,000 could do for these people's lives."
He continued: "I see in Wyclef Jean somebody who could well have been influenced by the promise of support of companies. I think Haiti is clearly vulnerable ... There is a history of American interests coming in and underpaying people. This is a culture of one to two dollars a day, that they were making."
Article continues below advertisement
OK! NEWS: SEAN PENN DEFENDS CELEBRITY CHARITY EFFORTS
Sean said:"I haven't seen or heard anything of Wyclef Jean in these last six months that I've been in Haiti. I think he's an important voice. I hope he doesn't sacrifice that voice by taking the eye off the very devastating realities on the ground."
He added, "I want to see someone who's really, really willing to sacrifice for their country, and not just someone who I personally saw with vulgar entourage of vehicles that demonstrated a wealth in Haiti that, in context, I felt was a very obscene demonstration."
OK! VIDEO: "WE ARE THE WORLD 25 FOR HAITI" RELEASED
Wyclef didn't let Sean's comments lie, responding to the Associated Press: "I just want Sean Penn to fully understand I am a Haitian, born in Haiti and I've been coming to my country ever since (I was) a child. He might just want to pick up the phone and meet, so he fully understands the man."