NEWS
See Mila Kunis & Justin Timberlake Grope Each Other at the 2011 MTV Movie Awards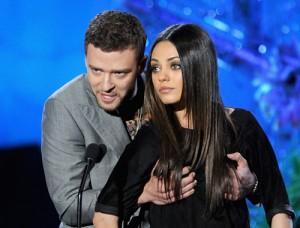 Justin Timberlake and Mila Kunis set the raunchy tone for the 2011 MTV Movie Awards when they presented the first award last night. The Friends With Benefits costars were very comfortable with one another, taking the stage by storm with their crotch-grabbing and boob-cupping antics, before presenting Robert Pattinson with the golden popcorn for Best Male Performance.
Justin and Mila got way touchy-feely on stage at Universal Studios' Gibson Amphitheatre, opening up last night's festivities with a bang.
Article continues below advertisement
OK! NEWS: MTV MOVIE AWARD WINNERS — TWILIGHT WINS BIG
"Even though we're in the movie Friends With Benefits, we've never dated," JT, said, followed by Mila's quip, "We're like brother and sister."
"We have a totally platonic relationship, which is why I can do this," Justin added as he grabbed Mila's boobs.
And she returned the favor, grabbing her pal's crotch.
And as Mila prepped for the big reveal with, "And the winner for Best Male Performance is...," Justin interjected with a laugh: "I think we just found out... What a shameless reference to my penis."