NEWS
Selena Gomez Showers Love And Affection On Britney Spears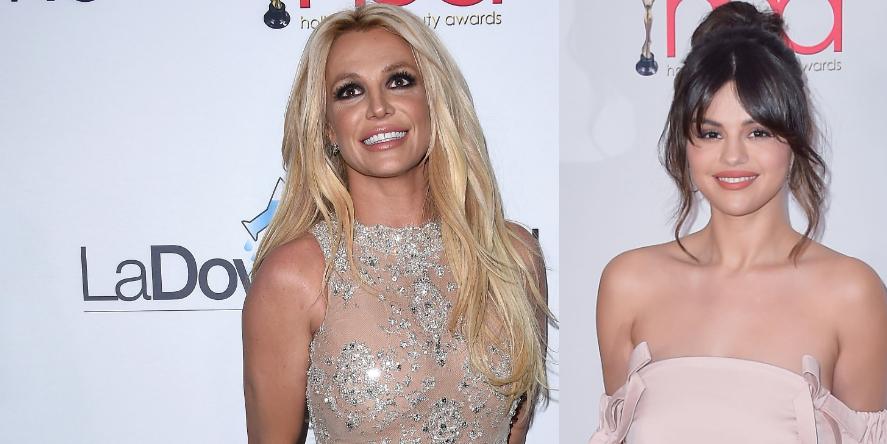 Selena Gomez has showered compliments on Britney Spears, calling her a "rare beauty" who has been a "huge inspiration" to her.
The 28-year-old Disney alum showered her love on Britney after the latter made a reference to Selena's songs in a make-up free video that she posted on Instagram.
Britney, in the video, wasn't shy of showing the freckles on her skin while discussing the pressures of growing up with fame.
Article continues below advertisement
The pop star wrote in the caption: "For the first time in my life I'm going without lots and lots of makeup !!!!!!
"These clips show a closer look at my face….which is very scary for me…you can actually see my freckles!!!!"
"Growing up in Hollywood can be hard !!!! It's all about looks….and the press can be pretty mean…..'why does she look so old'… 'why does she look so young'…'why is she too big'…'why is she too skinny' ?!?!!!!"
SELENA GOMEZ TALKS ABOUT COOKING, HER COMFORT FOOD, AND MORE
The 'Toxic' singer then went on to quote Selena Gomez in her emoji-laden caption.
"As Selena Gomez says…..the world can be a nasty place…kill them with kindness…GOD BLESS YOU ALL !!!! And with all that love right back to ya!!" the 38-year-old wrote, quoting Selena's 2015 hit 'Kill 'Em With Kindness.'
Selena was quick to respond to her post, commenting: "You've always been beautiful and a huge inspiration to me. You're rare beauty!!!"
Article continues below advertisement
By the way, Rare is the name of Selena's last album and her beauty line. She also got a tattoo behind her ear, denoting the name.
The exchange between the two singers comes at a time when Britney has been attempting to get her father Jamie removed from the position of her conservator.
The singer wants a "qualified corporate fiduciary" to take care of her estate and has nominated a trust company to take care of things.
BRITNEY SPEARS SHOWS HER LOVE AND SUPPORT FOR #FREEBRITNEY MOVEMENT
Britney thinks that her father treats her as a child and doesn't listen to her.
A source told PEOPLE: "Britney still wants the conservatorship to end at some point.
"But more urgently right now she doesn't want her dad to regain the sole conservator role. Jamie is very old school. He treats Britney like a child."
Despite Britney being strongly opposed to her father being her conservator, the court has ruled that he will still hold legal control over her finances until at least February 2021.
The #FreeBritney movement is a result of fans' outrage on the conservatorship, especially after the Slave 4 U singer made it clear that she does not want her father to have control over her money and assets.
Meanwhile, her father has maintained that Britney's conservatorship is nobody's business, and that the #FreeBritney movement is a joke as he knows what's "best" for his daughter.