NEWS
Selena Gomez Makes A Lucky Fan's Day By Signing A Get-Well Card & Paying For It!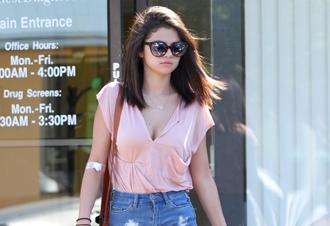 Selena Gomez isn't just there for BF Justin Bieber — she's there for her fans! While shooting her new film, Spring Breakers, in Florida last week, Selena made a lucky teenager's wish come true when she signed a get-well card for his sick girlfriend.
At a Walgreens in St. Petersburg, Fla., 16-year-old Talio Mirisha noticed the superstar. He told The Tampa Bay Times, "I didn't really know if it was her at first, but I kind of looked closer. 'What the heck, it could be her, so let me just ask.' "
Article continues below advertisement
He then asked Selena if she would sign a get-well card for his girlfriend, Lexi Wolf, 14. She said, "Sure thing!" and even made friendly conversation with Talio. "So, she's at the cash register signing the card, and asking how long Lexi and I had been going out. I said a year. She was asking me normal questions, like: 'What's wrong with her?' "
Talio continued by telling the newspaper, "Selena was really nice, calling me cute and adorable, and just being really sweet. She called me a really great boyfriend. In the card, too, she even writes: 'You have a great boyfriend.' In the card."
OK! NEWS: SELENA GOMEZ FLIES TO L.A. FOR JUSTIN BIEBER'S BIRTHDAY PARTY
Because Talio forgot his wallet in his car, Selena even paid for the card herself! "She gave me a hug goodbye, and then I told her good luck with Justin. And she's, like, 'Good luck with Lexi.' "
Sounds like Talio got a once-in-a-lifetime moment with the down-to-earth star!