NEWS
Shania Twain Talks About Writing Through the Pain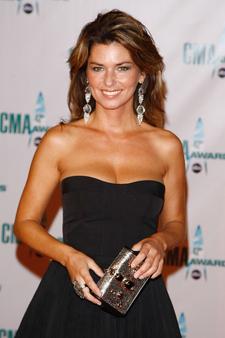 It's been almost seven years since Shania Twain released her last album of new songs, and if there's anyone more frustrated than her fans about that fact, it's the country superstar herself. And in a revealing new letter posted on her official fan site, Shania writes candidly about how the end of her marriage in 2008 has made it even more difficult to be productive.
"Music is the basis of our relationship," Shania writes to her fans. "And I realize I'm not holding up very well on my end of the relationship... I wish like crazy that I had new music by now since I dream of how fun it would be to see you all again out on tour with new songs to sing, but as most of you know, I have been side-tracked slightly over this past year."
Article continues below advertisement
While Shania admits that the traumatic split from husband of 14 years Mutt Lange has taken its toll on her ability to work, she's also trying to see the silver lining on that cloud.
"I've been inspired by my pain to write and use writing as a therapy through the suffering," she reveals. "I truly wouldn't wish this on anybody as a means to get inspired, but it's been a productive period with so much emotion trying to find it's way out."
That being said, she also warns that she's not ready to give anyone a timeline on when they can expect new songs from her.
The country star explains that, as much as she loves her music and her fans, her children take top priority. "I am a mom and all my energy goes to making sure my little man is healthy and happy in every way," she writes, referring to son Eja, who will turn 8 in August. "This is a full time job, as any parent understands, but especially difficult when you are battling your own personal crisis at the same time while trying to spare your child of being affected by your own suffering."
Adds Shania, "Please be patient and I will do my best to continue working on a finished album!"