NEWS
Shapiro Out, Chapman Holley Back In — Lawyers Love & Leave Lindsay Lohan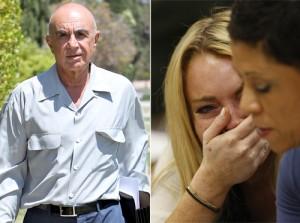 Lindsay Lohan is set to surrender in court today for her 90-day jail sentence and it looks like she won't have a lawyer representing her. Rob Shapiro has informed the judge presiding over Lilo's case, that he's no longer representing her, TMZ reports.
The reason for Shapiro leaving the case remains unknown, according to TMZ.
Shapiro — who is one of the lawyers known for getting O.J. Simpson off the hook — has said publicly he would represent Lindsay only if she agreed to jail and followed his rules.
Article continues below advertisement
Lindsay last lawyer, Shawn Chapman Holley, allegedly never signed the substitution of attorney form last Friday to remove her from the case, TMZ reports.
And now Holley is going to be by Lindsay's side in court this morning, representing her since Shapiro bailed.
Holley quit earlier this month soon after Lindsay as sentenced to 90-days in jail, claiming LiLo was an uncontrollable client.
According to TMZ, Holley is supposed to be in court in the Juan-Carlos Cruz attempted murder case at the same time Lindsay's case is heard and the lawyer plans to have the Cruz case delayed so she can be with Lindsay.
Stay tuned to OK! for the latest news on LiLo's surrender today.