NEWS
Sharon Osbourne On Watching Labor & Delivery From a "Different Angle": "It Was Fantastic!"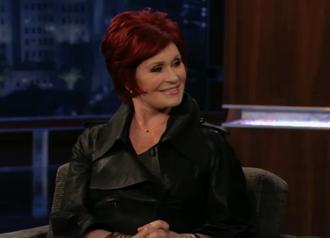 Sharon Osbourne is simply thrilled about becoming a grandma for the first time. Her son Jack Osbourne and his fiancée Lisa Stelly welcomed a baby girl named Pearl this week and she was there to witness the labor up close and personal in the delivery room!
OK! GALLERY: KELLY OSBOURNE DEBUT BRIGHT PURPLE LOCKS IN WEST HOLLYWOOD
"I was in the delivery room. And you know, I've had three children, but to see it from a different angle... it was amazing!" Sharon gushed on Jimmy Kimmel Live last night. "It was just fantastic."
Article continues below advertisement
As for whether Ozzy Osbourne watched the delivery of his granddaughter unfold, Sharon shook her head and quipped, "Um, that's a whole other show."
No surprise there since Sharon confessed that Ozzy wasn't even present at the deliveries of his own children!
"With Amy, he was in a jewelry shop buying me a diamond ring, so he missed the actual birth," Sharon explained. "With Kelly, he was just coming out of the pub. And then with Jack, he fainted! He was in the room, but he fainted," she said, adding, "And as he fainted, all these miniatures that he'd taken from the mini bar at our hotel came floating out of his jacket!"
OK! NEWS: JACK OSBOURNE IS OFFICIALLY A FATHER! BIS SIS KELLY TWEETS EXCITEMENT!
But despite what everyone might think of Ozzy, Sharon says her husband is a big softie and "ecstatic" about becoming a grandpa.
"He's completely over the moon with it," Sharon gushed. "Ozzy told Jack, 'You think you know what love is, but as you have your first child, there's no love like you feel for your child.' And I think Jack gets it."