NEWS
Shia LaBeouf Hooked Up With Megan Fox: "It Was What It Was"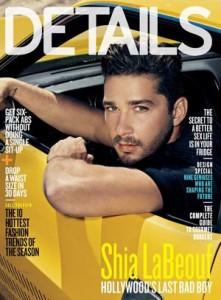 Article continues below advertisement
Shia apparently "nods affirmatively" and explains, "Look, you're on the set for six months, with someone who's rooting to be attracted to you, and you're rooting to be attracted to them. I never understood the separation of work and life in that situation. But the time I spent with Megan was our own thing, and I think you can see the chemistry onscreen."
Megan is now married to her longtime boyfriend Brian Austin Green, so was she seeing him at the time of the alleged hook up?
"I don't know, man. I don't know. I don't know. I don't know...." Shia says for a total of 12 times. "It was what it was."
OK! GALLERY: ROSIE HUNTINGTON-WHITELEY LOOKS RAVISHING IN LONDON
But in his interview, Shia also discusses his flings and relationships with Isabel Lucas, Hilary Duff and Carey Mulligan, and his current girlfriend Karolyn Pho.
The actor claims to be a "serial monogamist" and is not interested in movie extras or fans. Shia says it's "below my dignity. It's not me. I'd feel disgusted with myself. It takes a certain mentality to be able to pay a hooker and stay hard, if you know what I mean."
Shia rolled his truck while he was "philandering around" with his Transformers: Revenge of the Fallen co-star Isabel. "It was sort of disastrous," Shia says. "Neither one of us, I think, were in love. Just sort of experimenting or whatever."
But things turned around for him with his over-a-year-long relationship with his Wall Street: Money Never Sleeps co-star Carey. "I still love her," he says. "I think she's a f***ng awesome person and an incredible actress. We're still pals. I wouldn't take any of it back, and I don't think she would either. It just ran its course."