NEWS
Shia LaBeouf: "I Have to Give It to Brolin"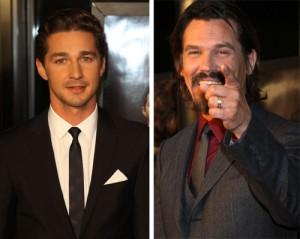 Shia LaBeouf and his Wall Street: Money Never Sleeps boss, Josh Brolin, race each other on motorcycles in the film and Shia says there was definitely a clear winner and it wasn't him.
OK! GALLERY: WALL STREET 2 PREMIERE — THE STARS NEVER SLEEP
"His risk appetite is that of someone you would call insane," Shia told PopEater of Josh. "I have a fear of losing my life that I don't think that man has."
"He's a cowboy, he's a man's man. And he's out to prove it all the time," he added. "I have to give it to Brolin."
Article continues below advertisement
But both stars deserve credit for filming the racing scene themselves, despite the dangerous stunts.
"The majority of it is us," Shia said. "There were about two shots that were not of us."
OK! NEWS: SHIA LABEOUF ON MICHAEL DOUGLAS — "CANCER PICKED THE WRONG GUY"
Yet, he couldn't help giving us some details of shooting the high-speed scenes. "If you're told you're going to hit this turn around 50 or 60 mph and then you look down at your speedometer and its saying 85 to 90 on a bike that's on a hairpin turn," Shia said. "That's enough."
"I was constantly trying to keep up with Brolin, who kept pushing the pace," he added, even though the bike he was driving was a Ducati and Shia says was a "two-million dollar prototype."
"It's one thing to be fearful for your life, but if you scratch that bike, we have a real problem," Shi explained. "There was only one of that particular bike ... My bike you could kick over."
OK! GALLERY: WALL STREET: MONEY NEVER SLEEPS CAST RINGS THE OPENING BELL
But overall he had good ride, with Josh.
"It was fun," Shia concluded. "It was like two boys in a sandbox."