NEWS
Shia LaBeouf on Michael Douglas: "Cancer Picked the Wrong Guy"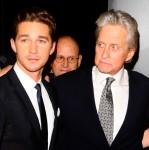 Shia LaBeouf may "carry" Wall Street: Money Never Sleeps in the word of Michael Douglas, but Shia says he learned a lot from Michael.
OK! GALLERY: WALL STREET 2 PREMIERE — THE STARS NEVER SLEEP
Shia chatted with OK! at the NYC premiere of Wall Street: Money Never Sleeps about what advice Michael gave him on set.
"It was a lot of buck up you know. A lot of that," the actor explained to OK!. "There's points where Oliver can be intimidating. And Mike had gone through the worst Oliver that had ever existed right. I got a softer, sweeter, cuddlier Oliver, who in his maturations, his sensibilities have changed, he's become a softer man. I think when Mike got him, he was the hardest, most dangerous director in film. I got a different Oliver."
Article continues below advertisement
How did it feel working with Michael?
"Exhilarating. Incredible. Rewarding. Intimidating. Passionate. Phenomenal, just phenomenal," Shia said. "A real treat."
OK! GALLERY: WALL STREET — MONEY NEVER SLEEPS CAST RINGS THE OPENING BELL
Shia also told reporters at the premiere that Michael "seems strong. He's a handsome dude."
Michael appeared at the premiere alongside wife Catherine Zeta-Jones, but did not do any press.
"Cancer picked the wrong guy when he picked Michael," Shia said. "He's too strong. He's a really strong, strong individual. He's the epitome of strength. He's got a good support system. He's a wolf."
By Rachel Levine