NEWS
Shiloh Fernandez Lost 'Twilight' Role to Robert Pattinson's Chemistry With Kristen Stewart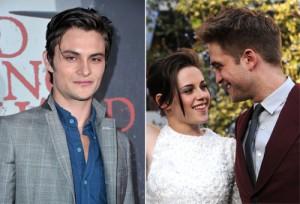 Shiloh Fernandez, the current star of Red Riding Hood, was close to being chosen to play Kristen Stewart's love interest in Twilight, but Robert Pattinson's chemistry with K-Stew beat him out.
OK! NEWS: TWILIGHT DIRECTOR SAYS KRISTEN STEWART FELT LOVE AT FIRST SIGHT FOR ROBERT PATTINSON
What if Shiloh had been picked to play Edward in Twilight? We can't even imagine a world without Robsten!
But Twilight/Red Riding Hood director Catherine Hardwicke says that while Shiloh and Robert made it down to the finals, the choice was clear.
Article continues below advertisement
"I thought he could have been very good in that role… (but) he was beat out by Rob because Rob and Kristen they just had that chemistry," Catherine told Access Hollywood of Shiloh's audition for Twilight.
"I want my leading ladies to be involved in that because they're the people that are actually going to be there and you want those real sparks and you want that real chemistry on some level, instead of having to fake it, or create it, or edit it around it,"she explained.
OK! NEWS: THE PHILMGUY REVIEWS — RED RIDING HOOD STARRING AMANDA SEYFRIED
It came down to four potential Edwards, but Kristen knew who she wanted it to be.
"I brought the four guys that I thought were the best and she had to make out with them or do four different scenes with them and at the end of those two days she said, 'It's gotta be Rob,'" Catherine said.
But it all worked out. Rob is with his leading lady Kristen and Shiloh with Amanda Seyfried in Red Riding Hood!