NEWS
Shiloh Says 'Uh-Oh!' in Venice with Angelina & Pax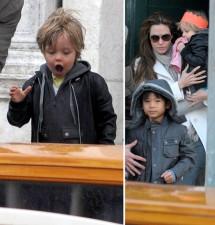 Don't worry, Shiloh! We're sure your mom Angelina Jolie and brother Pax were being careful! Shiloh looked a little nervous on Sunday while her mom and bro climbed out of a water taxi in Venice after another Jolie-Pitt family excursion.
It seems dad Brad Pitt also had safety on the brain as he helped partner Angie into a water taxi that same day. Gotta love a family taking care of each other!
The whole Jolie-Pitt clan is in Venice while Angie shoots The Tourist with Johnny Depp.
Article continues below advertisement
Seems like this family is one tight-knit bunch!