NEWS
Sienna & Jude Not Engaged "At the Moment"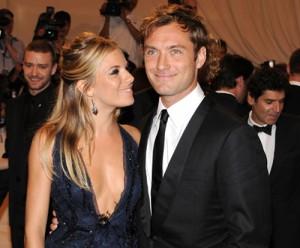 Now that the couple has reemerged in the Hollywood spotlight with their first public appearance together at the Met Gala, Jude Law has finally opened up about rekindling his romance with former fiancée Sienna Miller. And one things for sure — an engagement is on the horizon.
Jude and Sienna have been photographed together often by the paparazzi and reportedly rekindled their flame while both in the Big Apple starring on Broadway.
Article continues below advertisement
Over the holiday last year, Sienna went with Jude and his children to the Caribbean for some fun in the sun.
Access Hollywood caught up with the British actor while he was celebrating his Tony nomination for Hamlet yesterday at the award show's nomination luncheon in NYC.
So how does Jude feel to be back with Sienna?
"I'm very happy," Jude told Access. "I'm very happy to be happy."
Jude denied engagement rumors at this point in time.
"Not at the moment," he told Access with a smile. "Not at the moment. That's all I can say."
Jude said he is very excited about his Tony nomination (the second for the actor).
"I'd love to do Benedict, I'd love to do Coriolanus and Henry V," he said of taking on more Shakespeare.