NEWS
A Single Vanessa Hudgens Is "Very Excited" to Have 50 Cent as Her Pimp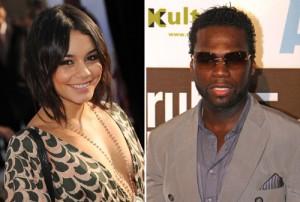 Disney darling Vanessa Hudgens attended the world premiere of IRIS — A Journey Into The World of Cinema by Cirque du Soleil in Hollywood where the Beastly star took some time to answer questions about dating and her career.
Many assumed Vanessa might bring recent flame Austin Butler to the red carpet after the pair were spotted being overtly affectionate, but instead the actress arrived with her sister in tow.
Article continues below advertisement
OK! GALLERY: VANESSA HUDGENS & HER SIS SHOP IT UP IN STUDIO CITY
When asked if she was single, Vanessa told reporters, "Yes!" and gave a slightly sarcastic smirk and laughed.
So what does this mean for Vanessa and Austin? Is the Sucker Punch star still just playing the field after her breakup last year with heart throb Zac Efron? And what exactly does a guy need to get the brunette bombshell to give them a shot at her heart?
Article continues below advertisement
Unfortunately, Vanessa hasn't had an opportunity to discuss the film with the rapper yet.
OK! EXCLUSIVE: ROMEO DISHES TO OK!: MY DREAM DATE IS VANESSA HUDGENS
"We're still in the process of getting ready, but it's very exciting. I feel like it's going to be a challenge that I've never done before."
The actress told OK! that in preparation for the role she has been "just studying people."
"My character is based off a real woman so I have the person who went through all this horrendous stuff who is going to be there by my side helping me through every step of the way, so I think it will be great," Vanessa said.
So do you believe Vanessa when she says she's single? And what do you think of 50 as Vanessa's pimp? Let us know in the comments below!
By Sadie Gennis with reporting by Gena Oppenheim