NEWS
'Smash' Recap: Katharine McPhee's Karen Is 'The Understudy' for Uma Thurman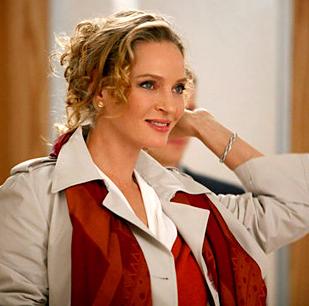 Oh, we have so many questions at the start of this episode! Are Karen and Ivy no longer bitter rivals? Has Frank stayed away from his cheating wife? Has Julia learned how to make something besides cereal in her husband's absence? How long has it been since the last episode? And finally, how did we miss the fact that Ellis slept with Rebecca Duvall's agent in his quest to get her to sign up for Marilyn (oh, excuse us, Bombshell). Many apologies, Smashketeers! We blame it on a combination of the DVR, copious note-taking for the previous scene, and Prednizone. It won't happen again!
Article continues below advertisement
Now, let's get into The Understudy. Fun fact: Megan Hilty (Ivy) understudied Wicked's Glinda on Broadway, before taking it over in 2005. Everyone, including the potential investors, has gathered at the rehearsal hall. They have all come to see if Rebecca Duvall can whip this show into shape. The only notable exception is Ivy; after the Heaven on Earth debacle, she has been banned from dancing, Footloose-style. Unfortunately, Rebecca Duvall is stuck in Cuba. Julia (Debra Messing) says she was on a goodwill mission with Sean Penn. And Eileen's annoying daughter, no doubt. One of the investors tells Eileen (Anjelica Huston) that she has two days to impress him, and then he's "pulling out." Gross. Eventually, Derek (Jack Davenport) and Julia tell Karen (Katharine McPhee) that they want her to understudy Marilyn. They have to get going on the blocking, you see, and Karen knows most of it. Or she would, if she remembered a pencil.
Sam (Leslie Odom Jr.) is hanging out at Ivy's later. Ivy drew all over Rebecca Duvall's face on Gabster magazine! And on some other magazine that's not OK! magazine. Ivy's first problem, after being a mean girl and a pill popper, is her reading material. Derek comes home and drops the bomb that Karen is the understudy for Rebecca Duvall. Did anyone else think it was kind of crappy of Sam to let Derek tell her? It does seem like there are some real feelings growing between Derek and Ivy, but we still think she would have rather heard the news from her pal Sam.
Article continues below advertisement
Meanwhile, Karen swings by Dev's (Raza Jaffrey) office, all inappropriately, and shares her good news. Dev hasn't been so lucky — that unsavory dude who flirts with senators' daughters got the job he wanted. "I got a promotion!" Karen says happily. Dev doesn't tell her that he will never get a promotion, ever. Ever, ever, ever. Because politics are unfair.
Leo (Emory Cohen) is eating grilled cheese for dinner. Forgive us for not feeling sorry for Leo. Julia wants to talk about Frank but Leo refuses.
The next day, Ivy is walking through the theater district in slow motion, singing Kelly Clarkson's Breakaway in her head. Except she's not just singing, she's having an entire fantasy sequence where she dresses up as Marilyn, goes to the rehearsal hall, announces herself with a triumphant wingspan gesture, and everyone claps. It's really quite sad. In reality, she's still in the blustery NYC cold, and she watches Derek usher Karen inside. We think this would have been a great place to insert Eminem's song from 8 Mile and turn Ivy into a full-fledged, vengeful psycho, but they didn't.
Article continues below advertisement
Inside, Eileen updates the group: Rebecca Duvall is still in Cuba. They resume blocking with Karen, who crosses upstage when she is supposed to come downstage. Derek screams, and her supposed friends take bets on how long she will last. Are these people in politics?
Tom (Christian Borle) is an idiot, because he set up an interview with a reporter from NYU to take place during rehearsal. Julia is for once rightfully annoyed. It's the 10th anniversary of their first musical, Three on a Match, and apparently they always celebrate by seeing an amateur production. We would prefer drinks and maybe some cheese fondue for such an accomplishment, but whatever. They go to a high school production, and Julia runs out of the theater when Tom tries to present her with a gift at curtain call. Outside, she tells him that Frank found out about her affair and he left her. Later, she steals Leo's phone and calls Frank. "I'll die if you don't talk to me," she says. As far as we know, Frank was unmoved.
Karen goes home and complains about Derek, and lets it slip that he tried to sleep with her when she was up for the part initially. Dev is enraged, we tell you, enraged. He starts screaming about sexual harassment. Oh, Dev. Someone hit on your girlfriend, she rebuffed him, get over it. Over in Derek's dwelling, Ivy tells him he should be more patient with Karen because the only directors who were successful with Marilyn babied her. Will someone please tell us why everyone keeps acting like whoever is playing Marilyn is actually Marilyn Monroe?
Article continues below advertisement
After another unpromising meeting with the investors, Eileen goes for the Bushwack to drown her sorrows in martinis and Nick (Thorsten Kaye) deliciousness. "Two martinis and you haven't flirted with me once," Nick says. Swoon! Eileen tells him of her investor issues, and he plops several wads of cash down on the bar. It is helpful, but probably not very smart. Then he says he has "friends." Looks like Eileen is going to get her investors after all. And from the most likely (i.e., completely predictable) of places! Ellis (Jaime Cepero) tells Eileen he investigated Nick and it was "interesting." Eileen blasts him for "delving into the personal lives" of her "friends." Later on, Eileen invites all the suits out for drinks and burns their contracts in a bucket. Her new investors are Nick and his friend, aging rocker Randy Cobra, who confesses that Nick got him involved in some slightly illegal stuff. Oh, no. Eileen doesn't seem to care though. And! We get a Nick/Eileen kiss!
Next rehearsal: We have a snappy song-and-dance number with lots of dudes in towels, led by Tom. This just in: Broadway vet Christian Borle is really, really good at what he does. Derek, heeding Ivy's advice, is nice to Karen. Tom and Sam wonder if he "found the Lord" or had a stroke. They laugh together and in walks John (Neal Bledsoe) with his sad little coffees. He knows Tom is totally feeling Sam. Later, when Tom is reading the sports page (gasp!), John breaks up with him because he "lights up like a candle" whenever he looks at Sam. Like a candle? Oh, wow. We give serious accolades to Neal for getting that line out with laughing.
Article continues below advertisement
Karen is out for drinks with the chorus, and Ivy shows up. She gives Karen a pair of sunglasses that not only replace the ones she tossed, but also are just like the ones Marilyn wore in some show. It would have been a nice moment, but then Ivy leans into Sam and says "I know exactly what I'm doing." We find out that later that Ivy's "devious plan" is to get back into the show by playing nice. Well, that's not very exciting, is it?
That evening, Karen is wearing lingerie and waiting for Dev to get home. There is a knock at the door. Without looking, she opens it, sticks her butt out and says "Did you forget your key?" Oops, it's Derek. Oh, please. They have never gotten one visitor or solicitor ever, in the entire time that they have lived there, so it must be Dev who forgot his key. Karen throws on a hoodie, and Derek tells her that Rebecca Duvall will be at the next rehearsal. He wanted to tell her in person, because he thought it was nicer. We are waiting for Dev to walk in and get all enraged again, but he doesn't show up! But, just as we are about to congratulate Smash on not doing something so obvious, the two run into each other on the street and Dev starts a fight. Sigh.
Article continues below advertisement
What follows is the best Karen/Dev scene to date. Previously, RJ told Dev there might be an opportunity for him in D.C. He asks Karen what would happen if he asked her to quit Marilyn and move to D.C. so he could pursue it. Karen only says that Marilyn is everything she came to New York to do, and she has never asked him to give up what he wants for her. Dev challenges her to ask him, but she can't. It's the truest test of their relationship so far, and one of the most interesting conflicts Smash has presented.
The next rehearsal introduces us, briefly to movie star Rebecca Duvall (Uma Thurman). She enters right after Karen's nice rendition of "Never Give All the Heart." Too late, it seems.