NEWS
'Smash' Recap: One Republic's Ryan Tedder Guest-Stars in "The Coup"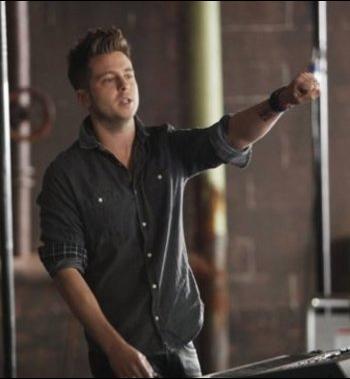 It was difficult not to sympathize with the Marilyn cast and crew last night! As we know, the workshop garnered less-than-stellar reviews, and no one has heard from Derek (Jack Davenport) or Eileen (Anjelica Huston) since the performance. We think that's akin to waiting to hear back about a job interview, which is awful. Julia (Debra Messing) is particularly on edge, and Frank (Brian d'Arcy James) tries to cheer her up with a little guitar hero performance. Leo (Emory Cohen) overhears and smiles to himself. For some reason, he believes this will convince his mom to stop her cheating ways.
Article continues below advertisement
The next day, Ellis (Jaime Cepero) meets Eileen in what we think is a rehearsal space, but it's actually just Eileen's new, empty apartment that we're supposed to believe she can't furnish. Seriously, who is Eileen's divorce lawyer? We meet Eileen's daughter, Katie (Grace Gummer, Meryl Streep's real-life daughter). Katie is some kind of traveling do-gooder. We don't like her.
OK! NEWS: SMASH RECAP: WORKSHOP WOES AS BERNADETTE PETERS SHOWS UP AS IVY'S MOTHER!
Derek meets with Karen (Katharine McPhee) and tells her a new direction for Marilyn is being considered, and there is a new song he would like her to sing. She's not allowed to mention it to Tom (Christian Borle) and Julia. Ellis informs Tom that Eileen and Derek were discussing Karen, and this arouses no suspicion from Tom whatsoever, regardless of the fact that he thinks Derek is an underhanded jerk. F for character continuity, Smash. Karen rehearses with Derek (and Ryan Tedder from One Republic!) in a seedy-looking place. Ryan thinks Karen is fabulous, and that she doesn't need Derek's direction. She swoons.
Article continues below advertisement
Julia meets Michael (Will Chase) at a park to 1) break up with him, and 2) fire him. Ouch. Michael brought the whole fam along for the occasion. "If I weren't fired, I'd quit," he tells her. "They're everything to me, and I've been really stupid." Well, we can't argue with that, but we're suspicious of Michael's sudden change of heart. Just to further reinforce that this whole scene was a waste of time, a garbage truck rolls by in the background.
Dev (Raza Jaffrey) has dinner with RJ, who has dirt on Dev's primary opponent for the press secretary job. Turns out he tried to "woo the mayor's daughter with some Anthony Weiner-style photos." Ugh. Thanks for reminding us. Later, we learn that Dev's rival is "untouchable." Translation: Someone is a fan of his photography.
Just to add salt to our wounds, attention is paid to Leo's "troubled teen" storyline. The whole fam meets with Tom's lawyer boyfriend, John (Neal Bledsoe), and apparently all that is left for them to wiggle their way out of is a charge that Leo disobeyed a park sign about not walking on the grass. But Leo says the grass was "Way over. Way over there." He doesn't even gesture, and Julia believes him! She must be worried that Leo will let Frank know about her affair if she doesn't take his side. This is certainly better than the probable truth, which is that Julia is a terrible mother. Later, in court, we meet our new favorite character: Leo's judge. "I'm not interested in handing out dismissals for ungrateful, privileged kids who think they can get away with murder in our public parks," Judge Awesome proclaims. Unfortunately, Leo does get away with it, because he is exactly what the judge said he is.
Article continues below advertisement
Speaking of annoying offspring, Katie sits her parents down to demand they get along and that Jerry (Michael Cristofer) stop putting millions of dollars in her trust fund. Really?! If she wants her mom to have money, what's stopping her from just taking it out of her trust fund and giving it to her? We know Katie has money to gallavant around the world, so we're pretty sure there is no hold on the trust fund. In any case, we hate anyone who indignantly shrieks "my trust fund!"
OK! NEWS: SMASH RECAP: SEX, DRUGS AND BROADWAY SHOWS
Ivy (Megan Hilty) is trying not to worry about Marilyn, so her friends take her bowling. A really terrible song-and-dance routine follows. We won't go into it.
The next day, Ellis "runs into" Ivy and gets her all worked up about Derek's secret project. Meanwhile, Karen finds out that pretty much everyone knows about it already. That night, Ellis' girlfriend takes a stab at convincing him not to be such a terrible, annoying individual. She is unsuccessful. Ellis declares that Tom is an "artist" and a "loser" and that he wants to be a producer.
Article continues below advertisement
Tom and Julia are unwittingly drawn to Derek and Eileen's secret rehearsal space, and we're treated to a new vision for Marilyn — a vision that makes the musical look like a Britney Spears video. The song, "Touch Me," is decent, but it is unfortunately brought to life by Karen, whose dancing is reminiscent of Britney circa... well, now. Tom and Julia are horrified as masked men tear at Karen and the bed turns into a little cage (subtle symbolism is so effective, isn't it?) Oh, and Ellis and Ivy are watching the whole thing from somewhere off in the darkness.
Completely unrealistically, Katie talks down to her mother and convinces her that this was a terrible thing to do. "I don't want to put toxic garbage into the world, I want to put something good into the world... you can't just turn into dad, mom!" she wails. As far as we can tell, Katie is a self-righteous little snot. We're still not sure what her job is, but according to Tom, she's "saving the world." Barf. We should get a break from her, though. "These people I know are going to Alaska to count wild salmon," she says as if we're not supposed to roll our eyes and scoff with disgust. Eileen goes back and apologizes to Tom and Julia, but Derek doesn't back down.
Article continues below advertisement
When Derek and Tom are left alone, we find out that 11 years ago they were friends and worked together on a musical that almost ruined Tom's career. Apparently, a critic liked Derek's direction but hated Tom's songs, so Derek went around bragging about it. According to Tom, Derek told every producer they knew that Tom was "overrated" and "unstable."
"And for your information," Tom says, "That critic wasn't in your pocket, he was sleeping with your father."
Low blow, Tom. Only Leo is interested in his parents' sexual desires.
They both refuse to quit, and the gang ends up back in Eileen's office, which Julia thinks has ultraviolet lighting. This is the second time she has worn her sunglasses in there. Eileen decides they need a star to play Marilyn. On the way out, Ellis informs Tom (from his new desk) that he now works for Eileen.
Tom meets with Ivy to let her know she's been fired. We still like their friendship, in spite of everything. Ivy goes home and sings to herself in her bedroom. Sigh. Then Derek shows up. Ivy barely takes him to task for his stunt with Karen before they are tearing each other's clothes off. The only thing we can think of is that this is just another way to set up Ivy as a reflection of Marilyn — her sexuality is the only thing that seems to make her feel in control.
What did you think of Tom and Derek's fight, and the decision to fire Ivy? Who would you like to see play Marilyn?