NEWS
'Smash' Recap: Sex, Drugs and Broadway Shows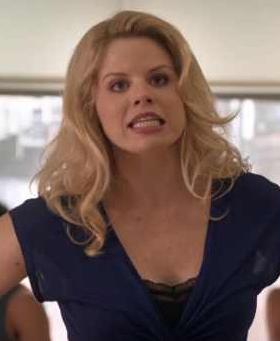 We learn that the Marilyn workshop will perform in front of an invited audience in one week. But before that, Ivy (Megan Hilty) is singing "Let Me Be Your Star" in front of her dresser mirror and her voice cracks. Eek!
Meanwhile, Eileen (Anjelica Huston) is in a decidedly less sexy situation with Ralph, a Broadway producer she is trying to woo into financing Marilyn. We don't understand why he doesn't agree to come to the workshop. Also, there is something about Ralph that doesn't read "rich, powerful producer" to us, but then again, we don't know very many rich, powerful producers.
Article continues below advertisement
At rehearsal, Derek (Jack Davenport) is angry that Julia (Debra Messing) hasn't finished writing lyrics yet. She's all "my husband is away, and my son is in trouble and I'm debating having an affair with our lead actor!" Well, one part of that isn't said out loud. Ellis (Jaime Cepero) runs his nosy little behind over to Eileen's office. Either the rehearsal space is in the same building as this office or Ellis has a jet-pack. We assume that the two have forged a friendship after Ellis fixed her computer last week. He reports that Derek is fighting with Tom (Christian Borle) and Julia. The two head back to rehearsal, where Ivy is singing worse than Karen's Iowa friends at the karaoke bar. Later, Tom reports that Ivy's throat is inflamed, but not infected. She is given prednisone, but is hesitant to take it because she's sensitive to drugs. Derek wonders if Karen (Katharine McPhee, who by the way dropped the contents of her backpack behind the piano and is still in the room) can fill in for Ivy. Tom defends Ivy, but as we are about to see, he will ultimately put the quality of Marilyn first.
OK! NEWS: SMASH RECAP: BEING BAD LOOKS SO, SO GOOD
That night, Derek tells Ivy (who is making her own tea… seriously, can't Derek do anything?) that if she isn't better by tomorrow, they will get Karen to fill in. The next morning, Julia is burning pancakes and daydreaming about her kiss with Michael (Will Chase) on the curb. Leo (Emory Cohen) informs her that he asked for cereal because she's a crappy cook. We know Leo is mad because he saw his mom making out with Michael, but for real, whose mom would take that remark? Dear Leo, you're 16! Make your own breakfast. Frank (Brian d'Arcy James) comes back from his teacher's thing and Julia is overly welcoming.
Article continues below advertisement
Ivy's voice is better at rehearsal and Ellis runs back to Eileen's to tell her so. We guess Ellis is clamoring to be Eileen's new assistant because he realizes that scenes with Eileen make him slightly more tolerable. Anyway, apparently she needs an apartment, and for some reason she thinks Ellis can help out. And as it turns out, Ellis' friend Zack has access to Pam Corker's computer! Whoever that is. They take her to a swanky apartment that costs $10,000 a month to rent. That's a little steep for Eileen these days. Times are hard when you can't afford $10,000 a month. The three then go to a bar in the East Village called the Bushwack, which is very different from Eileen's usual haunts, and she loves it.
Next, we have an awkward scene of Ivy singing in her bedroom. It makes Ivy feel better… until she sees Karen as Marilyn in the mirror. That prednisone is making Ivy crazy.
Tom is at a party at John's house, talking to some boring and pretentious people, one of whom tells him that John (Neal Bledsoe) only came out to his mother last year. He leaves when he gets a call from a freaked-out Ivy. Sam is also at Ivy's. Her two buddies console her and we think they also establish a romantic spark. Still, Tom's mind is mainly on Marilyn, so he texts Karen: "I might need you tomorrow, please be discreet." Karen is at a bar mitzvah gig Jessica (Savannah Wise) gave her (that was originally Ivy's). By the end of it though, Tom says Ivy is fine. Before Karen leaves, she's given a business card of someone who left the party. What is it with Karen and business cards? We hope she's able to find a Rolodex in 2012. The card belongs to Bobby Raskin, a big-shot music producer.
Article continues below advertisement
OK! NEWS: SMASH STAR KATHARINE MCPHEE WAVES HAPPILY AS SHE ARRIVES AT TODAY SHOW
Julia "goes for a walk" in the middle of the night, and she and Michael end up doing it on the prop couch in the rehearsal space, which is pretty gross if you ask us. Grosser still, the next day she acts like she's enjoying her secret. Michael and Ivy start rehearsing "History is Made at Night" and Julia wears a knowing expression when they get on the couch. Ew, again. Ivy falls, and she and Michael start to laugh. This infuriates Derek.
And finally, Ivy stands up for herself! "Maybe you could give me notes without publicly humiliating me at the same time," Ivy says. She then goes on to suggest Karen could be a better Marilyn. Julia tries to diffuse by saying they should have had more time with the lyrics (we guess she was inspired to complete them after getting it on with Michael). "I don't need more time with the lyrics," Ivy says. "I need to stop sleeping with men who are complete narcissistic pricks." Yes! And then, on her way out, "Oh, and you're not that good-looking. And you're not that good in bed either." Best Ivy moment yet!
Later, Eileen, Ellis and Zack meet Ralph at the Bushwack. Ralph agrees to attend the workshop. Eileen is now a resident of the Lower East Side, and the Bushwack is her new favorite place. We love this! The only thing better was when she flirted with the bartender (the yummy Thorsten Kaye!).
All in all, we thought this was a pretty boring episode, but it seemed to set up for a lot of good drama for next week, so we will stay tuned! How about you?