NEWS
'SNL' Alum Victoria Jackson Slams 'Glee' for Same-Sex Kiss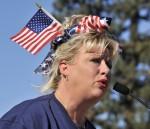 Saturday Night Live alum, Victoria Jackson, thinks last week's episode of Glee was anything but a laughing matter. The outspoken comedian slammed the show for the same-sex kiss when Chris Colfer and Darren Criss' characters, Kurt and Blaine respectively, kissed for the first time.
OK! VIDEO: WATCH DARREN CRISS & CHRIS COLFER'S ROMANTIC KISS ON GLEE
According to PopEater, Victoria took to her column on WorldNetDaily and ranted, "Did you see Glee this week? Sickening! And, besides shoving the gay thing down our throats, they made a mockery of Christians -- again! I wonder what their agenda is? Hey, producers of Glee -- what's your agenda? One-way tolerance?"
Article continues below advertisement
OK! NEWS: VICTORIA JACKSON, SNL ALUM, IS AN ACTIVE TEA PARTIER, CALLS OBAMA "A COMMUNIST"
In response to the kiss, GLAAD President Jarrett Barrios told PopEater, "Glee has raised the bar of what it means to be inclusive on TV, and viewers are tuning in by the millions, sending a clear message to networks that Americans not only accept gay and lesbian characters, but they are beginning to expect them." Jarrett added, "It's stories like Kurt and Blaine's that continue to remind gay youth everywhere that there's nothing wrong with being who you are."
What do you think about Victoria's comments?