NEWS
Snooki Moves Out and The Biggest Fight Ever: 'Jersey Shore' Recap, Season 6, Episode 2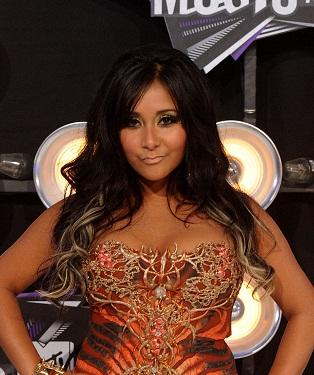 Ugh. Ok, so on Thursday's unnecessarily long episode of Jersey Shore, Nicole "Snooki" Polizzi moves into a house across the street that everyone is envious of, because of her porch and grandma couch.
Mike "The Situation" Sorrentino decides to take a shot of a different kind, one that will apparently help him in his continued quest for sobriety. The shot is really painful, and when he goes to work, Danny doesn't leave him alone about customers and being the "old Mike" and some crap like that. Mike eventually leaves, and we don't blame him. Listen, Danny. There were like six people in the Shore Store, and they all work for you.
Article continues below advertisement
Meanwhile Deena Cortese is, of course, still going on and on about love and her freaking boyfriend. She's all, I thought I knew what love was but I didn't really know, and now I know, because of Chris! There might as well be bluebirds and butterflies flying around her when she speaks of him. They go to Rivoli's, and their conversation seemed, to us, to be kind of one–sided. Here are some quotes. We'll let you guess who said them. "I love you... Do you love me?... You're a phenomenal person... You're my best friend... Did my mom give you the picture frame?"
OK! GALLERY: THE JERSEY SHORE CAST SAYS GOODBYE: LOOKING BACK AT FIVE SEASONS OF GYM, TAN, LAUNDRY
Deena loses it after Chris leaves the next morning. She calls her mom from the trusty duck phone and cries about how she doesn't feel like herself and she's not normal. And guys, even Deena's mom is like, "Yo, you need to relax." Also, she later on thought she had toxic shock syndrome (or as she put it, "tockshickshtock syndrome") but, as a friend texted us during the episode concluded, "She didn't die so I guess it was a false alarm."
Article continues below advertisement
Sammi "Sweetheart" Giancola and Deena have a nice rooftop talk. Sammi tries to coax out of Deena what is really bothering her and says, "If you need me to be a meatball, I'll do my best." Aw! It was a really heartwarming moment, completely obliterated by Ronnie Ortiz-Magro acting like a total a**hole. If you can get over the shock of that revelation, we'll try to explain what we think happened. We think that in taking time to talk to Deena, Sammi delayed Ronnie's dinner plans. ME RONNIE. ME A MAN. ME MUST EAT. NOOOOOOW. He yells that they had reservations.
They discuss Deena's state of mind (in the completely-empty-and-obviously-rented-out-for-filming-purposes restaurant) and Ronnie, having consumed calories, at last makes what we hate to admit is an on-point remark: that Deena's behavior isn't healthy. We honestly hope this is a put-on for the cameras, and that nobody is really that dependent. Or annoying.
Deena's "romantical" (barf!) evening inspired Snooki, who decides she wants a date of her own. She's all dressed up and ready to go to Rivoli's, and Jionni LaValle arrives in sweats, rarin' to go to Steaks Unlimited. Still, we'd rather be on their date, wouldn't you? It was a less romantic but also a lot less creepy. And we loved Snooki's statement that a year ago, she would have described the perfect night as going out and getting wasted and now it's just being able to walk down the street and hold hands with Jionni. And talk about her Kong nipples.
Article continues below advertisement
Disclosure: if you haven't figured it out already, we're skipping over the really boring and inconsequential stuff; somewhere in the middle of it, Mike sang his own version of the late Amy Winehouse's "Rehab." It went something like this: "They tried to make me go to rehab, and I said yes." We are amused and also awaiting an outcry of angry, sensitive Amy Winehouse fans.
Paul "DJ Pauly D" DelVecchio, Vinny Guadagnino and Ronnie go to hang out on Snooki's porch so there can be another awkward encounter between Jionni and Vinny. We get why Vinny doesn't want to initiate casual conversation with Jionni, but what is stopping him from taking him aside for an apology, or just, you know. Not hanging out on his pregnant fiancée's porch?
Also, we need to interrupt this recap to publically beg for this sock trend with men to end. Vinny. We love you. What is going on with your socks? And you're not the only one. Everywhere last summer, we saw dudes with these hideous tube socks pulled up their calves. It's really a bad look. They made socks that can hardly be seen above your shoes for a reason.
Sigh. Later on, some girl waves her naked boobs in front of the shore house. Oh, and her vagina.
Article continues below advertisement
Jenni "JWoww" Farley throws Roger Mathews a surprise party because this episode is so boring. And he was an hour and 15 minutes late, because he fell asleep, because this episode is boring. Also boring? Roger's surprise party, which JWoww says took her two days to plan.
It took her two days to round up Pauly and Vinny and buy some party hats and balloons? We guess we won't be seeing Events by JWoww any time soon. This party is pitiful. It is the only party ever that was made worse by the guest of honor showing up. The only televised party we can think of that was worse than this is from the very first season of Beverly Hills, 90210, for David Silver's geeky friend, Scott. He has no friends, so Donna gets some of her cool kid friends to come and he's all excited but then he accidentally shoots himself and dies.
Article continues below advertisement
Mike and Snooki have words at the Shore Store. We really do admire Mike's sobriety, but he has to get over feeling entitled to forgiveness for the actions he took before he got clean. We're Team Snooki on this one. After she tells him she doesn't want to be friends, ever, he goes for a reflective stroll on the boardwalk, complete with a blurry filter, a fence-lean, and a downcast, sad face. Is this a frigging Backstreet Boys video? What are we watching?
Later, Snooki wisely declines an invitation to go to Bamboo, because, as she tells us, fights happen there. And as MTV promos have told us, the Biggest. Fights. Ever. Happen there.
About that fight. Some guy tries to reminisce about good times with Mike, who doesn't know who he is. The Sitch apologizes for not remembering and explains that he probably was not sober at the time. The guy, whose name we learn is Paul, is hurt. Paul asks how he could not remember. "You and I are f***ing friends on Facebook and you don't remember?" Oh, Paul. All we can say to that is: BAHAHAHAHAHAHAHAHAHAHA ARE YOU SERIOUS, PAUL?
Article continues below advertisement
Paul won't leave it alone. He's almost as desperate for attention as that annoying chick in the white dress who was pretending to unknowingly dance next to the people on TV. Nice moves, lady. The wheels on the bus go round and round.
One of DJ Pauly D's friends, Ryan Labbe, throws Paul across the room. Several minutes seemingly go by and then all of a sudden there's a big fight, just as promised. Normally, we'd be like whatever, but we're pretty sure we saw Roger push Jenni and Jenni punch Roger. It's too early to make any sense out of this, so for now we're just going to congratulate Roger and Jenni on their recent engagement.