NEWS
So You Think You Can Dance Stars Fik-Shun and Amy Yakima Talk Big Win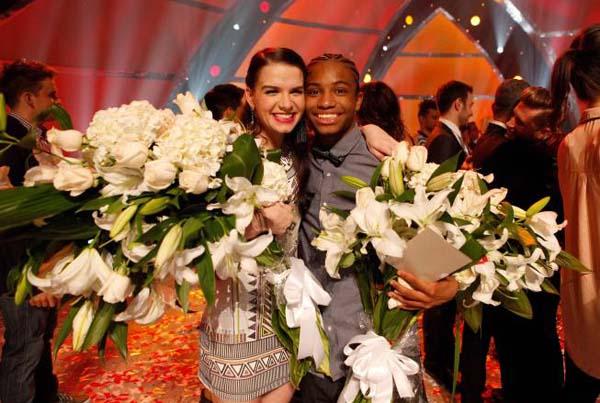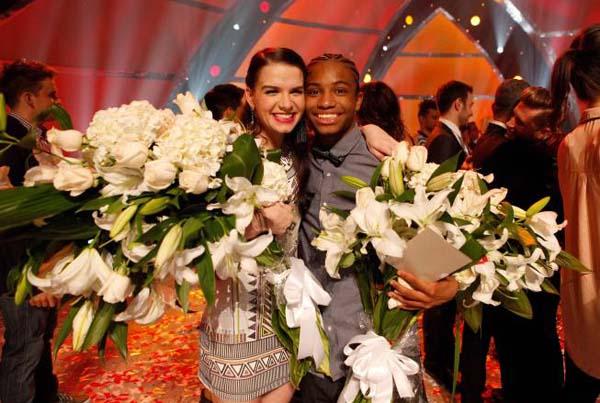 So You Think You Can Dance crowned their season 10 winners—with Fik-Shun and Amy Yakima taking home the grand prize on Tuesday night. But there's no congratulatory rest for the talented dancers, they had a length photo shoot scheduled the very next day. Despite the frenzy surrounding their win, Fik-shun and Amy chatted with OK! about what it's like to snag the coveted title.
Article continues below advertisement
OK!: How does it feel to finally have the winning title?
Fik-Shun: It feels so surreal for both of us. It feels good we made it to the end but we just feel happy. It sounds cheesy but we're just happy.
OK!: Who was the first person you each wanted to talk to after you found out you'd won?
Fik-Shun: Definitely my dad, my parents in general. My family came to the show. I wanted to see them right after.
Amy Yakima: The first person I wanted to talk to was my boyfriend/best friend. He's overseas so I had to call him. We're going to Face Time as soon as we find the time. He was the first one who was on my mind I had to call.
MORE ON:
So You Think You Can Dance
OK! News: The Workout Behind Miley's Infamous Twerk
OK!: Was there one choreographer who really influenced you this season?
AY: For me it would be Travis, just the way he moves is the way I've always wanted to move. It felt so natural, his choreography on me. The way he worked is the way I work. It felt so perfect and natural that he improved me so much in just one week.
Fik-Shun: I have to say as far as being the most helpful adapting to a style would be Jean Marc for ballroom. He was very good at explaining things and in so many different ways. If I didn't get it one way you would get it another way. He was always so funny and he never really stressed or worried. He really instilled a lot of things in me that when I think of ballroom I think of him first as a teacher and a mentor in terms of doing a style I'm completely new to.
Article continues below advertisement
OK! News: Try Gluten-Free Beauty Finds
OK!: What are you looking forward to most about the SYTYCD tour?
AY: Just being with everyone, they're such a great group. Just to get to know everyone and dance with them on stage and not have to worry about competing or worrying who is going to get cut or eliminated. I just want to enjoy everyone. I'm probably going to get to dance with people I haven't danced with yet and that's what I'm looking forward to.
Fik-Shun: That's going to be awesome. It's like 42 cities in 50 days. It's going to be crazy traveling, especially because I haven't really traveled as much. The whole traveling part will be really cool as well as dancing with everyone else.
The So You Think You Can Dance tour kicks off on October 1 in East Lansing, Michigan.