NEWS
'Something Borrowed' Producer "Hopeful" to Make 'Something Blue' Sequel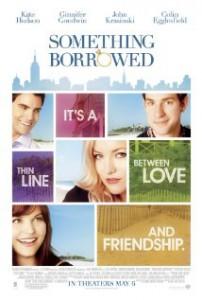 Something Borrowed, starring Kate Hudson and Ginnifer Goodwin, didn't really win over critics on the big screen, but producer Molly Smith is still "hopeful" there will be a sequel.
OK! NEWS: SOMETHING BORROWED AUTHOR EMILY GIFFIN SAYS THE FILM "GOT IT RIGHT"
Something Borrowed only came in fourth at the box office this past weekend, making $13.9 million, but since the movie is based on Emily Giffin's best-selling book, Molly hopes fans will will help push for a sequel.
Article continues below advertisement
"It's still a little early," Molly told Movieline on Monday. "We think that we're going to have great legs on this film and play for weeks and weeks to come. So it's still a little early to make an official call on the sequel, but we're still very hopeful. And we're very proud of the weekend results."
And the negative reviews of the film don't bother her.
"The one thing I'll say is that this movie has had amazing word of mouth, and obviously judging from the CinemaScores B overall, B+ among women — people who are seeing it are loving it, which makes us very happy and proud."
OK! VIDEO: WATCH KATE HUDSON & GINNIFER GOODWIN'S SOMETHING BORROWED TRAILER!
And the box office results don't bother her either.
"Alcon were happy with this result and they feel like this movie will play and have legs, and we're still hopeful," she said. "We've been developing Something Blue for quite a while. So we'll make a decision, hopefully, soon."
"Emily Giffin's fan base is insane, and if you look on Facebook or Twitter she has 40,000 girls that follow her," she added. "These girls are so passionate, and they're motivated to get to the sequel as well, so they're taking girls back and going multiple times, taking book clubs. The response has been really huge."