NEWS
Sophia Bush Dishes on Life After 'One Tree Hill': "I'm Happier Than I've Ever Been!"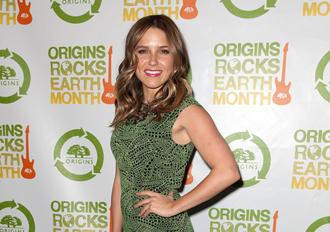 View all comments
Sophia Bush was glowing last night as she hosted the Origins Rocks Earth Month Concert at Webster Hall in NYC, and it wasn't because she's been enjoying some down time since her hit show One Tree Hill wrapped. Actually, Sophia admits she hasn't had any down time since shooting ended in November!
"It's been interesting," Sophia told OK! at the concert last night of life after OTH. "I miss seeing our camera operators and our wardrobe department and the grips everyday, but I missed being home so much! It's so wonderful to be there."
Article continues below advertisement
As for what she's up to next, Sophia says she already shot a pilot and can't wait to find out if it gets picked up! 
"I just shot a really great comedy pilot for CBS from the creators of Will & Grace. I was kind of on the fence about starting a new show right away, but when I met Matt Mutchnick and David Kohan, I was like, 'Done! I'll sign on the dotted line!'" Sophia explained to OK!.
"It's interesting because for nine years I haven't had to think about pilot season, but now it's the waiting game. And in the meantime, I'm working on a lot of things in the environmental space and in the tech space and it's crazy, but it's very rewarding and I'm loving it!" 
One thing she's not loving lately, though, is a man! And it sounds like she's done dating co-stars, but hey, you never know! 
OK! NEWS: ONE TREE HILL STAR SOPHIA BUSH TALKS GIRL-ON-GIRL ACTION WITH CRAIG FERGUSON! 
"I'm clearly an example of when it works out and when it doesn't work out. In its worst way!" Sophia said of dating co-stars, like ex-husband Chad Michael Murray and recent ex-boyfriend Austin Nichols. "When you work 16 hours a day, like we did on a show, who else do you ever meet? Especially when you're in a Petri dish of a town the size of a thumbnail. But you got to laugh at your life."