NEWS
Sophia Bush Talks Justin Bieber And Charity to OK!: 'He's Doing A Great Thing'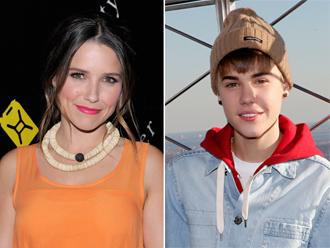 Sophia Bush may be done filming One Tree Hill, but she is certainly one busy woman! The actress attended last night's Sixth Annual Charity: Ball, benefiting the nonprofit charity: water, in NYC, where she spoke exclusively with OK! about her recent trip to Laos and Justin Bieber!
Sophia just came back from a trip to Laos with the organization Pencils of Promise, which is a group Justin is a very big part of! She told OK!, "Bieber's doing a great thing. He's a young superstar who could just be concerned with himself and his fabulous life. He is incredibly passionate about changing the lives of children around the world, and I think that is really commendable for a 17-year-old."
Article continues below advertisement
OK! NEWS: JUSTIN BIEBER MEETS 9/11 HERO'S DAUGHTER: "HE MADE HER DAY"
She also revealed what she learned on her own trip with founder Adam Braun. "It was just an exceptional trip. I've been fortunate enough to call Adam a great friend for a long time. I'm so inspired by what he does, as soon as I wrapped the show — I literally wrapped on a Wednesday, flew here and hosted the fund-raiser gala Thursday, went home Friday, moved out from North Carolina and went home, ready to go to Laos.
Sophia was so moved by her trip, it was hard for her to explain: "It was… I can't even say; it was like Christmas or Hanukkah — it was like a revelation. It was such an enormous experience, and I think that it makes us — at least it should make us — really re-evaluate the way that we consume and the things that we hold valuable. It's just wonderful."