NEWS
Sophia's Grandmother: "It's Really Sad" 'Teen Mom' Farrah Abraham Won't Allow Contact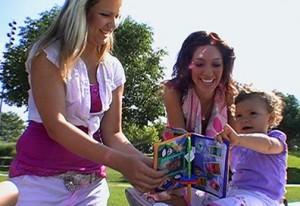 Teen Mom's Farrah Abraham's fight with the family of Sophia's father, Derek Underwood, is still raging on. His mother, Stormie Clark, is heartbroken she can't have contact with her granddaughter.
OK! NEWS: TEEN MOM AMBER PORTWOOD DOES NOT HAVE CUSTODY OF LEAH
Before Farrah's daughter, Sophia, was born, the father, Derek, was killed in a car accident.
Now, Derek's mother says Sophia is the only part of her son she has left and Farrah won't allow her to see her.
Article continues below advertisement
Recently, Farrah visited Derek's grave in Missouri, E! News reports, which Stormie was happy to hear except she wishes it hadn't been filmed by MTV.
"I'm glad that she did take Sophia down there finally," she shares in an interview with E! News. "I know that Sophia's not old enough to understand all that right now, but after seeing and hearing that the MTV cameras were there, I just hope that it was for the right reasons."
"It's just sad," she added. "I felt protective as a mother after I saw Farrah's mother, Deborah, there. I honestly didn't understand why she was there, because she never liked Derek, and I was very uncomfortable with her being at my son's grave."
OK! NEWS: IN THIS ISSUE — IS FARRAH PUTTING LITTLE SOPHIA AT RISK?
While Farrah has met with Derek's sister, Kassy, Stormie says the Teen Mom doesn't speak to her because she "didn't support her and Derek's relationship."
Article continues below advertisement
An Iowa court ruled in Farrah's favor when she sued for visitations rights after Stormie requested a paternity test that proved Derek was Sophia's father.
"It's more than any human being should have to go through to lose her son and his only daughter," Stormie said.
"It's just really sad that I have to miss out on all of her baby years," she explained. "It's just really hard when the holidays roll around, like they will never be the same. It's just hard."
But she has a message to her granddaughter.
"If I were able to talk to Sophia, I would say, 'Grandma loves you. I really want to be a part of your life.'"