NEWS
'Spider-Man' Star Andrew Garfield Fears Fame: "It's a Weird, Strange, Unhealthy Thing"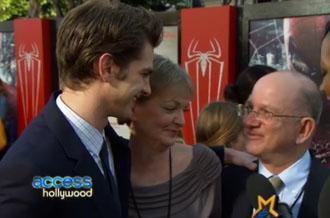 Article continues below advertisement
"That's all I really care about to be honest," Andrew said of gaining more "little kid" fans by doing this movie. "There's nothing better than a young boy looking up to you. It just makes you go, 'Well, I'm happy to be alive.'"
As for fame, Andrew says it's the "weirdest" part of the business.
"Me as a person hasn't changed in any way, shape or form. I'm still the same idiot I always was," Andrew told Access Hollywood of being a celebrity at the L.A. premiere of Spider-Man. "I intend to leave the country very very soon after this red carpet. Because it's a weird, strange unhealthy thing... fame."
"He's always been grounded," his dad said. "And he remained grounded today. We're more proud of him today than any other time because he's still the grounded young man that he always was and it's fantastic."